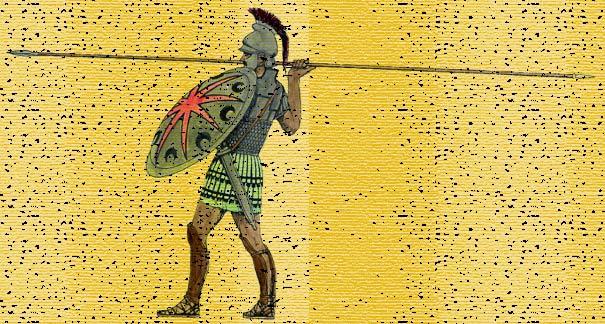 Hypaspist Soldier of Alexander the Great

The sketch depicts a Greek "Hypaspist" soldier of Alexander's Macedonian infantry. He is thrusting his 12 foot spear and ready for battle. His heavy shield is held with an armband. This is in harmony with the soldiers equipment found in Philip of Macedon's tomb. He is wearing a "bearded" Thracian helmet and greaves.

The Bible mentions a lot Concerning "Battle"
Psalms 24:8 - Who [is] this King of glory? The LORD strong and mighty, the LORD mighty in battle.
2 Kings 3:7 - And he went and sent to Jehoshaphat the king of Judah, saying, The king of Moab hath rebelled against me: wilt thou go with me against Moab to battle? And he said, I will go up: I [am] as thou [art], my people as thy people, [and] my horses as thy horses.

1 Kings 22:4 - And he said unto Jehoshaphat, Wilt thou go with me to battle to Ramothgilead? And Jehoshaphat said to the king of Israel, I [am] as thou [art], my people as thy people, my horses as thy horses.

Daniel 11:25 - And he shall stir up his power and his courage against the king of the south with a great army; and the king of the south shall be stirred up to battle with a very great and mighty army; but he shall not stand: for they shall forecast devices against him.

1 Samuel 4:1 - And the word of Samuel came to all Israel. Now Israel went out against the Philistines to battle, and pitched beside Ebenezer: and the Philistines pitched in Aphek.

1 Samuel 13:22 - So it came to pass in the day of battle, that there was neither sword nor spear found in the hand of any of the people that [were] with Saul and Jonathan: but with Saul and with Jonathan his son was there found.

1 Samuel 31:3 - And the battle went sore against Saul, and the archers hit him; and he was sore wounded of the archers.

1 Samuel 7:10 - And as Samuel was offering up the burnt offering, the Philistines drew near to battle against Israel: but the LORD thundered with a great thunder on that day upon the Philistines, and discomfited them; and they were smitten before Israel.

1 Samuel 17:28 - And Eliab his eldest brother heard when he spake unto the men; and Eliab's anger was kindled against David, and he said, Why camest thou down hither? and with whom hast thou left those few sheep in the wilderness? I know thy pride, and the naughtiness of thine heart; for thou art come down that thou mightest see the battle.

Judges 20:23 - (And the children of Israel went up and wept before the LORD until even, and asked counsel of the LORD, saying, Shall I go up again to battle against the children of Benjamin my brother? And the LORD said, Go up against him.)

1 Chronicles 20:1 - And it came to pass, that after the year was expired, at the time that kings go out [to battle], Joab led forth the power of the army, and wasted the country of the children of Ammon, and came and besieged Rabbah. But David tarried at Jerusalem. And Joab smote Rabbah, and destroyed it.

Joshua 22:33 - And the thing pleased the children of Israel; and the children of Israel blessed God, and did not intend to go up against them in battle, to destroy the land wherein the children of Reuben and Gad dwelt.

2 Samuel 22:40 - For thou hast girded me with strength to battle: them that rose up against me hast thou subdued under me.

Psalms 18:39 - For thou hast girded me with strength unto the battle: thou hast subdued under me those that rose up against me.

Genesis 14:8 - And there went out the king of Sodom, and the king of Gomorrah, and the king of Admah, and the king of Zeboiim, and the king of Bela (the same [is] Zoar;) and they joined battle with them in the vale of Siddim;

1 Kings 20:39 - And as the king passed by, he cried unto the king: and he said, Thy servant went out into the midst of the battle; and, behold, a man turned aside, and brought a man unto me, and said, Keep this man: if by any means he be missing, then shall thy life be for his life, or else thou shalt pay a talent of silver.

Revelation 9:9 - And they had breastplates, as it were breastplates of iron; and the sound of their wings [was] as the sound of chariots of many horses running to battle.

Deuteronomy 20:1 - When thou goest out to battle against thine enemies, and seest horses, and chariots, [and] a people more than thou, be not afraid of them: for the LORD thy God [is] with thee, which brought thee up out of the land of Egypt.

Jeremiah 18:21 - Therefore deliver up their children to the famine, and pour out their [blood] by the force of the sword; and let their wives be bereaved of their children, and [be] widows; and let their men be put to death; [let] their young men [be] slain by the sword in battle.

Numbers 32:29 - And Moses said unto them, If the children of Gad and the children of Reuben will pass with you over Jordan, every man armed to battle, before the LORD, and the land shall be subdued before you; then ye shall give them the land of Gilead for a possession:

1 Chronicles 12:19 - And there fell [some] of Manasseh to David, when he came with the Philistines against Saul to battle: but they helped them not: for the lords of the Philistines upon advisement sent him away, saying, He will fall to his master Saul to [the jeopardy of] our heads.

Deuteronomy 20:5 - And the officers shall speak unto the people, saying, What man [is there] that hath built a new house, and hath not dedicated it? let him go and return to his house, lest he die in the battle, and another man dedicate it.

Joshua 11:20 - For it was of the LORD to harden their hearts, that they should come against Israel in battle, that he might destroy them utterly, [and] that they might have no favour, but that he might destroy them, as the LORD commanded Moses.

1 Samuel 4:2 - And the Philistines put themselves in array against Israel: and when they joined battle, Israel was smitten before the Philistines: and they slew of the army in the field about four thousand men.

1 Samuel 17:1 - Now the Philistines gathered together their armies to battle, and were gathered together at Shochoh, which [belongeth] to Judah, and pitched between Shochoh and Azekah, in Ephesdammim.

Isaiah 22:2 - Thou that art full of stirs, a tumultuous city, a joyous city: thy slain [men are] not slain with the sword, nor dead in battle.

2 Samuel 1:4 - And David said unto him, How went the matter? I pray thee, tell me. And he answered, That the people are fled from the battle, and many of the people also are fallen and dead; and Saul and Jonathan his son are dead also.

1 Chronicles 14:15 - And it shall be, when thou shalt hear a sound of going in the tops of the mulberry trees, [that] then thou shalt go out to battle: for God is gone forth before thee to smite the host of the Philistines.

1 Samuel 28:1 - And it came to pass in those days, that the Philistines gathered their armies together for warfare, to fight with Israel. And Achish said unto David, Know thou assuredly, that thou shalt go out with me to battle, thou and thy men.

Zechariah 14:2 - For I will gather all nations against Jerusalem to battle; and the city shall be taken, and the houses rifled, and the women ravished; and half of the city shall go forth into captivity, and the residue of the people shall not be cut off from the city.