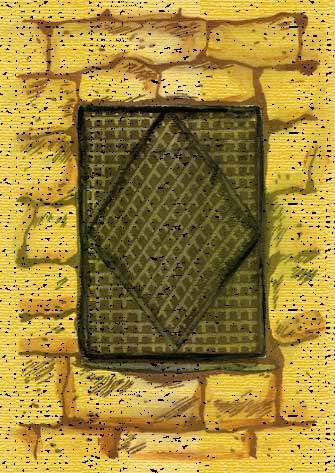 Decorated Ancient Window

The lattice window looked very much like a fisherman's net, and was used in warm middle eastern countries.
It was formed of reticulated work, and highly ornamental. They also had hinges which allowed them to be open or shut. On very hot days then sun is kept out while the air is let in through the trellis openings.
"The mother of Sisera looked out at a window, and cried through the lattice, Why is his chariot so long in coming? why tarry the wheels of his chariots?"
- Judges 5:28
"And Ahaziah fell down through a lattice in his upper chamber that was in Samaria, and was sick: and he sent messengers, and said unto them, Go, enquire of Baalzebub the god of Ekron whether I shall recover of this disease."
- 2 Kings 1:2
"My beloved is like a roe or a young hart: behold, he standeth behind our wall, he looketh forth at the windows, shewing himself through the lattice."
- Song of Solomon 2:9
"For at the window of my house I looked through my casement, And beheld among the simple ones, I discerned among the youths, a young man void of understanding"
- Proverbs 7:6-7

The Bible mentions a lot regarding windows:
Genesis 6:16 - A window shalt thou make to the ark, and in a cubit shalt thou finish it above; and the door of the ark shalt thou set in the side thereof; [with] lower, second, and third [stories] shalt thou make it.

2 Kings 13:17 - And he said, Open the window eastward. And he opened [it]. Then Elisha said, Shoot. And he shot. And he said, The arrow of the LORD'S deliverance, and the arrow of deliverance from Syria: for thou shalt smite the Syrians in Aphek, till thou have consumed [them].

Joshua 2:18 - Behold, [when] we come into the land, thou shalt bind this line of scarlet thread in the window which thou didst let us down by: and thou shalt bring thy father, and thy mother, and thy brethren, and all thy father's household, home unto thee.

2 Samuel 6:16 - And as the ark of the LORD came into the city of David, Michal Saul's daughter looked through a window, and saw king David leaping and dancing before the LORD; and she despised him in her heart.

1 Chronicles 15:29 - And it came to pass, [as] the ark of the covenant of the LORD came to the city of David, that Michal the daughter of Saul looking out at a window saw king David dancing and playing: and she despised him in her heart.

Acts 20:9 - And there sat in a window a certain young man named Eutychus, being fallen into a deep sleep: and as Paul was long preaching, he sunk down with sleep, and fell down from the third loft, and was taken up dead.

Joshua 2:15 - Then she let them down by a cord through the window: for her house [was] upon the town wall, and she dwelt upon the wall.

Genesis 26:8 - And it came to pass, when he had been there a long time, that Abimelech king of the Philistines looked out at a window, and saw, and, behold, Isaac [was] sporting with Rebekah his wife.

Judges 5:28 - The mother of Sisera looked out at a window, and cried through the lattice, Why is his chariot [so] long in coming? why tarry the wheels of his chariots?

2 Kings 9:30 - And when Jehu was come to Jezreel, Jezebel heard [of it]; and she painted her face, and tired her head, and looked out at a window.

Genesis 8:6 - And it came to pass at the end of forty days, that Noah opened the window of the ark which he had made:

Joshua 2:21 - And she said, According unto your words, so [be] it. And she sent them away, and they departed: and she bound the scarlet line in the window.

2 Kings 9:32 - And he lifted up his face to the window, and said, Who [is] on my side? who? And there looked out to him two [or] three eunuchs.

1 Samuel 19:12 - So Michal let David down through a window: and he went, and fled, and escaped.

2 Corinthians 11:33 - And through a window in a basket was I let down by the wall, and escaped his hands.

Proverbs 7:6 - For at the window of my house I looked through my casement