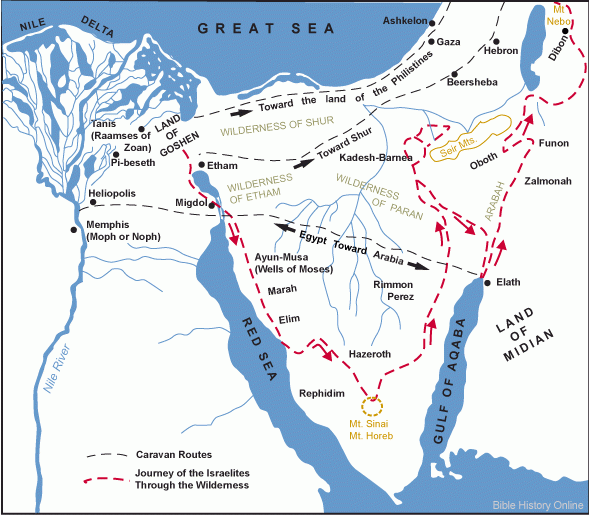 (Enlarge) (PDF for Print) (Freely Distributed)
Map of the Route of the Hebrews from Egypt
This map shows the Exodus of the Israelites from Egypt to the Promised Land under the leadership of Moses.
The Nile Delta was a triangular area of marshland about 150 miles from north to south, from Memphis to the Mediterranean, and about 150 - 200 miles wide.
Upper Egypt was a bit further south from Lower Egypt, starting at Memphis (bottom of the Nile Delta Triangle) and extended for about 600 miles down the Nile River Valley to Elephantine (Aswan).
Genesis 47:6 - The land of Egypt [is] before thee; in the best of the land make thy father and brethren to dwell; in the land of Goshen let them dwell: and if thou knowest [any] men of activity among them, then make them rulers over my cattle.
Hosea 9:6 - For, lo, they are gone because of destruction: Egypt shall gather them up, Memphis shall bury them: the pleasant [places] for their silver, nettles shall possess them: thorns [shall be] in their tabernacles.
Exodus 14:1-2 - And the LORD spake unto Moses, saying, Speak unto the children of Israel, that they turn and encamp before Pihahiroth, between Migdol and the sea, over against Baalzephon: before it shall ye encamp by the sea.
Exodus 14:21-22 - And Moses stretched out his hand over the sea; and the LORD caused the sea to go back by a strong east wind all that night, and made the sea dry land, and the waters were divided. And the children of Israel went into the midst of the sea upon the dry ground: and the waters were a wall unto them on their right hand, and on their left.
Egypt in the Bible Encyclopedia - ISBE

Egypt
1. The Basis of the Land:
Though Egypt is one of the earliest countries in recorded history, and as regards its continuous civilization, yet it is a late country in its geological history and in its occupation by a settled population. The whole land up to Silsileh is a thick mass of Eocene limestone, with later marls over that in the lower districts. It has been elevated on the East, up to the mountains of igneous rocks many thousand feet high toward the Red Sea. It has been depressed on the West, down to the Fayum and the oases below sea-level. This strain resulted in a deep fault from North to South for some hundreds of miles up from the Mediterranean. This fault left its eastern side about 200 ft. above its western, and into it the drainage of the plateau poured, widening it out so as to form the Nile valley, as the permanent drain of Northeast Africa. The access of water to the rift seems to have caused the basalt outflows, which are seen as black columnar basalt South of the Fayum, and brown massive basalt at Khankah, North of Cairo.
2. The Nile Valley:
The gouging out of the Nile valley by rainfall must have continued when the land was 300 ft. higher than at present, as is shown by the immense fails of strata into collapsed caverns which were far below the present Nile level. Then, after the excavations of the valley, it has been submerged to 500 ft. lower than at present, as is shown by the rolled gravel beds and deposits on the tops of the water-worn cliffs, and the filling up of the tributary valleys--as at Thebes--by deep deposits, through which the subsequent stream beds have been scoured out. The land still had the Nile source 30 ft. higher than it is now within the human period, as seen by the worked flints in high gravel beds above the Nile plain. The distribution of land and water was very different from that at present when the land was only 100 ft. lower than now. Such a change would make the valley an estuary up to South of the Fayum, would submerge much of the western desert, and would unite the Gulf of Suez and the Mediterranean. Such differences would entirely alter the conditions of animal life by sea and land. And as the human period began when the water was considerably higher, the conditions of climate and of life must have greatly changed in the earlier ages of man's occupation. Full Article
Egypt in Smith's Bible Dictionary
Egypt
(land of the Copts), a country occupying the northeast angle of Africa. Its limits appear always to have been very nearly the same. It is bounded on the north by the Mediterranean Sea, on the east by Palestine, Arabia and the Red Sea, on the south by Nubia, and on the west by the Great Desert. It is divided into upper Egypt --the valley of the Nile --and lower Egypt, the plain of the Delta, from the Greek letter; it is formed by the branching mouths of the Nile, and the Mediterranean Sea. The portions made fertile by the Nile comprise about 9582 square geographical miles, of which only about 5600 is under cultivation. --Encyc. Brit. The Delta extends about 200 miles along the Mediterranean, and Egypt is 520 miles long from north to south from the sea to the First Cataract.
NAMES. --The common name of Egypt in the Bible is "Mizraim." It is in the dual number, which indicates the two natural divisions of the country into an upper and a lower region. The Arabic name of Egypt --Mizr-- signifies "red mud." Egypt is also called in the Bible "the land of Ham,"
Ps 105:23,27 comp. Psal 78:51
--a name most probably referring to Ham the son of Noah --and "Rahab," the proud or insolent: these appear to be poetical appellations. The common ancient Egyptian name of the country is written in hieroglyphics Kem, which was perhaps pronounced Chem. This name signifies, in the ancient language and in Coptic, "black," on account of the blackness of its alluvial soil. We may reasonably conjecture that Kem is the Egyptian equivalent of Ham.
GENERAL APPEARANCE, CLIMATE, ETC. --The general appearance of the country cannot have greatly changed since the days of Moses. The whole country is remarkable for its extreme fertility, which especially strikes the beholder when the rich green of the fields is contrasted with the utterly bare, yellow mountains or the sand-strewn rocky desert on either side. The climate is equable and healthy. Rain is not very unfrequent on the northern coast, but inland is very rare. Cultivation nowhere depends upon it. The inundation of the Nile fertilizes and sustains the country, and makes the river its chief blessing. The Nile was on this account anciently worshipped. The rise begins in Egypt about the summer solstice, and the inundation commences about two months later. The greatest height is attained about or somewhat after the autumnal equinox. The inundation lasts about three months. The atmosphere, except on the seacoast, is remarkably dry and clear, which accounts for the so perfect preservation of the monuments, with their pictures and inscriptions. The heat is extreme during a large part of the year. The winters are mild, --from 50 Full Article
The Exodus in Smith's Bible Dictionary
Exodus, The
of the Israelites from Egypt. the common chronology places the date of this event at B.C. 1491, deriving it in this way: --In 1Ki 6:1 it is stated that the building of the temple, in the forth year of Solomon, was in the 480th year after the exodus. The fourth year of Solomon was bout B.C. 1012. Add the 480 years (leaving off one years because neither the fourth nor the 480th was a full year), and we have B.C. 1491 as the date of the exodus. This is probably very nearly correct; but many Egyptologists place it at 215 years later, --about B.C. 1300. Which date is right depends chiefly on the interpretation of the Scripture period of 430 years, as denoting the duration of the bondage of the Israelites. The period of bondage given in Ge 15:13,14; Ex 12:40,41 and Gala 3:17
as 430 years has been interpreted to cover different periods. The common chronology makes it extend from the call of Abraham to the exodus, one-half of it, or 215 years, being spend in Egypt. Others make it to cover only the period of bondage spend in Egypt. St. Paul says in Ga 3:17 that from the covenant with (or call of) Abraham the giving of the law (less than a year after the exodus) was 430 years. But in Ge 15:13,14 it is said that they should be strangers in a strange land,a nd be afflicted 400 years, and nearly the same is said in Ex 12:40 But, in very truth, the children of Israel were strangers in a strange land from the time that Abraham left his home for the promised land, and during that whole period of 430 years to the exodus they were nowhere rulers in the land. So in Ex 12:40 it is said that the sojourning of the children of Israel who dwelt in Egypt was 430 years. But it does not say that the sojourning was all in Egypt, but this people who lived in Egypt had been sojourners for 430 years. (a) This is the simplest way of making the various statements harmonize. (b) The chief difficulty is the great increase of the children of Israel from 70 to 2,000,000 in so short a period as 215 years, while it is very easy in 430 years. But under the circumstances it is perfectly possible in the shorter period. See on ver. 7
(c) If we make the 430 years to include only the bondage in Egypt, we must place the whole chronology of Abraham and the immigration of Jacob into Egypt some 200 years earlier, or else the exodus 200 years later, or B.C. 1300. in either case special difficulty is brought into the reckoning. (d) Therefore, on the whole, it is well to retain the common chronology, though the later dates may yet prove to be correct. The history of the exodus itself commences with the close of that of the ten plagues. [PLAGUES, THE TEN] In the night in which, at midnight, the firstborn were slain,
Ex 12:29 Pharaoh urged the departure of the Israelites. vs. Ex 12:31,32 They at once set forth from Rameses, vs. Ex 12:37,39 apparently during the night v. Ex 12:42 but towards morning on the 15th day of the first month. Nu 33:3 They made three journeys, and encamped by the Red Sea. Here Pharaoh overtook them, and the great miracle occurred by which they were saved, while the pursuer and his army were destroyed. [RED SEA, PASSAGE OF] Full Article
The Red Sea in Smith's Bible Dictionary
The Passage of the Red Sea
It is necessary to endeavor to ascertain the route of the Israelites before we can attempt to discover where they crossed the sea. The point from which they started was Rameses, a place certain in the land of Goshen, which we identified with the Wadi-t-Tumeylat. They encamped at Succoth. At the end of the second day's journey the camping place was at Etham, "in the edge of the wilderness." Ex 13:20; Nu 33:6 Here the Wadi-t-Tumeylat was probably left, as it is cultivable and terminates in the desert. At the end of the third day's march for each camping place seems to mark the close of a day's journey the Israelites encamped by the sea, place of this last encampment and that of the passage would be not very far from the Persepolitan monument at Pihahiroth. It appears that Migdol was behind Pi-hahiroth and on the other hand Baalzephon and the sea. From Pi-hahiroth the Israelites crossed the sea. This was not far from halfway between the Bitter Lakes and the Gulf of Suez, where now it is dry land. The Muslims suppose Memphis to have been the city at which the Pharaoh of the exodus resided before that event occurred. From opposite Memphis a broad valley leads to the Red Sea. It is in part called the Wadi-t-Teeh, or "Valley of the Wandering." From it the traveller reaches the sea beneath the lofty Gebel-et-Takah, which rises in the north and shuts off all escape in that direction excepting by a narrow way along the seashore, which Pharaoh might have occupied. The sea here is broad and deep, as the narrative is generally held to imply. All the local features seem suited for a great event. The only points bearing on geography in the account of this event are that the sea was divided by an east wind. Whence we may reasonably infer that it was crossed from west to east, and that the whole Egyptian army perished, which shows that it must have been some miles broad. Full Article

The Bible Mentions "Egypt" Many Times
Exodus 34:18 - The feast of unleavened bread shalt thou keep. Seven days thou shalt eat unleavened bread, as I commanded thee, in the time of the month Abib: for in the month Abib thou camest out from Egypt.

Genesis 46:7 - His sons, and his sons' sons with him, his daughters, and his sons' daughters, and all his seed brought he with him into Egypt.

Jeremiah 2:18 - And now what hast thou to do in the way of Egypt, to drink the waters of Sihor? or what hast thou to do in the way of Assyria, to drink the waters of the river?

Jeremiah 44:14 - So that none of the remnant of Judah, which are gone into the land of Egypt to sojourn there, shall escape or remain, that they should return into the land of Judah, to the which they have a desire to return to dwell there: for none shall return but such as shall escape.

Isaiah 19:22 - And the LORD shall smite Egypt: he shall smite and heal [it]: and they shall return [even] to the LORD, and he shall be intreated of them, and shall heal them.

2 Kings 17:4 - And the king of Assyria found conspiracy in Hoshea: for he had sent messengers to So king of Egypt, and brought no present to the king of Assyria, as [he had done] year by year: therefore the king of Assyria shut him up, and bound him in prison.

Exodus 23:15 - Thou shalt keep the feast of unleavened bread: (thou shalt eat unleavened bread seven days, as I commanded thee, in the time appointed of the month Abib; for in it thou camest out from Egypt: and none shall appear before me empty:)

Exodus 10:13 - And Moses stretched forth his rod over the land of Egypt, and the LORD brought an east wind upon the land all that day, and all [that] night; [and] when it was morning, the east wind brought the locusts.

Exodus 9:25 - And the hail smote throughout all the land of Egypt all that [was] in the field, both man and beast; and the hail smote every herb of the field, and brake every tree of the field.

Jeremiah 44:30 - Thus saith the LORD; Behold, I will give Pharaohhophra king of Egypt into the hand of his enemies, and into the hand of them that seek his life; as I gave Zedekiah king of Judah into the hand of Nebuchadrezzar king of Babylon, his enemy, and that sought his life.

Ezekiel 20:5 - And say unto them, Thus saith the Lord GOD; In the day when I chose Israel, and lifted up mine hand unto the seed of the house of Jacob, and made myself known unto them in the land of Egypt, when I lifted up mine hand unto them, saying, I [am] the LORD your God;

Numbers 11:18 - And say thou unto the people, Sanctify yourselves against to morrow, and ye shall eat flesh: for ye have wept in the ears of the LORD, saying, Who shall give us flesh to eat? for [it was] well with us in Egypt: therefore the LORD will give you flesh, and ye shall eat.

1 Kings 8:16 - Since the day that I brought forth my people Israel out of Egypt, I chose no city out of all the tribes of Israel to build an house, that my name might be therein; but I chose David to be over my people Israel.

Joshua 5:6 - For the children of Israel walked forty years in the wilderness, till all the people [that were] men of war, which came out of Egypt, were consumed, because they obeyed not the voice of the LORD: unto whom the LORD sware that he would not shew them the land, which the LORD sware unto their fathers that he would give us, a land that floweth with milk and honey.

Jeremiah 43:11 - And when he cometh, he shall smite the land of Egypt, [and deliver] such [as are] for death to death; and such [as are] for captivity to captivity; and such [as are] for the sword to the sword.

Genesis 47:6 - The land of Egypt [is] before thee; in the best of the land make thy father and brethren to dwell; in the land of Goshen let them dwell: and if thou knowest [any] men of activity among them, then make them rulers over my cattle.

Ezekiel 29:12 - And I will make the land of Egypt desolate in the midst of the countries [that are] desolate, and her cities among the cities [that are] laid waste shall be desolate forty years: and I will scatter the Egyptians among the nations, and will disperse them through the countries.

Exodus 12:42 - It [is] a night to be much observed unto the LORD for bringing them out from the land of Egypt: this [is] that night of the LORD to be observed of all the children of Israel in their generations.

Deuteronomy 16:1 - Observe the month of Abib, and keep the passover unto the LORD thy God: for in the month of Abib the LORD thy God brought thee forth out of Egypt by night.

Deuteronomy 17:16 - But he shall not multiply horses to himself, nor cause the people to return to Egypt, to the end that he should multiply horses: forasmuch as the LORD hath said unto you, Ye shall henceforth return no more that way.

Joshua 24:4 - And I gave unto Isaac Jacob and Esau: and I gave unto Esau mount Seir, to possess it; but Jacob and his children went down into Egypt.

Judges 6:8 - That the LORD sent a prophet unto the children of Israel, which said unto them, Thus saith the LORD God of Israel, I brought you up from Egypt, and brought you forth out of the house of bondage;

Genesis 41:36 - And that food shall be for store to the land against the seven years of famine, which shall be in the land of Egypt; that the land perish not through the famine.

Deuteronomy 13:5 - And that prophet, or that dreamer of dreams, shall be put to death; because he hath spoken to turn [you] away from the LORD your God, which brought you out of the land of Egypt, and redeemed you out of the house of bondage, to thrust thee out of the way which the LORD thy God commanded thee to walk in. So shalt thou put the evil away from the midst of thee.

Joshua 24:32 - And the bones of Joseph, which the children of Israel brought up out of Egypt, buried they in Shechem, in a parcel of ground which Jacob bought of the sons of Hamor the father of Shechem for an hundred pieces of silver: and it became the inheritance of the children of Joseph.

Joshua 5:5 - Now all the people that came out were circumcised: but all the people [that were] born in the wilderness by the way as they came forth out of Egypt, [them] they had not circumcised.

Genesis 45:23 - And to his father he sent after this [manner]; ten asses laden with the good things of Egypt, and ten she asses laden with corn and bread and meat for his father by the way.

Exodus 8:17 - And they did so; for Aaron stretched out his hand with his rod, and smote the dust of the earth, and it became lice in man, and in beast; all the dust of the land became lice throughout all the land of Egypt.

Ezekiel 30:6 - Thus saith the LORD; They also that uphold Egypt shall fall; and the pride of her power shall come down: from the tower of Syene shall they fall in it by the sword, saith the Lord GOD.

2 Chronicles 6:5 - Since the day that I brought forth my people out of the land of Egypt I chose no city among all the tribes of Israel to build an house in, that my name might be there; neither chose I any man to be a ruler over my people Israel: