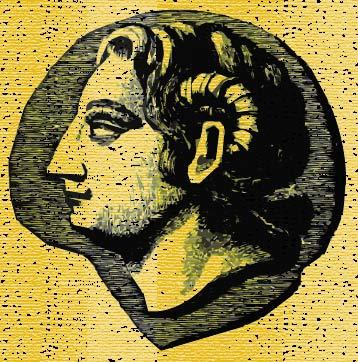 Illustration of the Head of Alexander the Great
This sketch illustrates the head of Alexander III of Macedon "The Great." No one can be certain what Alexander the Great looked like.
Soldier, statesman, conquering general, King of Greece, Pharaoh of Egypt, Lord of Asia. Alexander III of Macedon, better known to us as Alexander the Great, was all of these and much more. Alexander was also an instrument of the Almighty, as any reader of the Bible can see clearly, especially when considering the prophecies of Daniel.
Daniel 8:5-6 "And as I was considering, behold, an he goat came from the west on the face of the whole earth, and touched not the ground: and the goat [had] a notable horn between his eyes. And he came to the ram that had [two] horns, which I had seen standing before the river, and ran unto him in the fury of his power."
There are five principle historical sources from which we gain virtually all our knowledge concerning Alexander's life and reign.
THE ANCIENT SOURCES CONCERNING ALEXANDER THE GREAT
All literary evidence concerning Alexander's life rests fundamentally upon five biographical and historical accounts, in addition to one ancient romance. They are:

A. Diodorus Siculus, a Greek of the mid-first century B.C. who composed forty books of history of which fifteen survive. Book 17 deals entirely with Alexander.
B. Quintus Curtius Rufus, a Latin author of the mid-first century A.D., whose ten book history of Alexander comprises his only extant work.
C. Plutarch, a classical Greek historian, whose Life of Alexander was composed in the second century A.D.
D. Justin, a second century A.D. short account of Alexander, an epitome of an earlier history by one Pompeius Trogus.
E. Lucius Flavius Arrianus (Arrian) whose Anabasis of Alexander was written mid-second century A.D. comprising the most complete and accurate account.
In addition there is one ancient romance:
The Alexander Romance. This work exists only in its fourth century A.D. form, and reflects a classical romantic tradition concerning Alexander. Little of the romance is serious history.
History has clouded a full and complete understanding regarding all the details of Alexander the Great's life and conquests, nonetheless we must depend upon the ancient sources in order to reconstruct at least a reliable overview of his brief but significant life. Amidst the jumbled and oft times contradictory accounts of the ancient historians Diodorus, Curtius, Plutarch, and Arrian, there lies virtually untouched the Old Testament prophetic announcements concerning God's sovereign election of Alexander's Empire for His own higher purposes.

The Bible mentions a lot Concerning "Greek"
Acts 21:37 - And as Paul was to be led into the castle, he said unto the chief captain, May I speak unto thee? Who said, Canst thou speak Greek?

Revelation 9:11 - And they had a king over them, [which is] the angel of the bottomless pit, whose name in the Hebrew tongue [is] Abaddon, but in the Greek tongue hath [his] name Apollyon.

John 19:20 - This title then read many of the Jews: for the place where Jesus was crucified was nigh to the city: and it was written in Hebrew, [and] Greek, [and] Latin.

Acts 16:1 - Then came he to Derbe and Lystra: and, behold, a certain disciple was there, named Timotheus, the son of a certain woman, which was a Jewess, and believed; but his father [was] a Greek:

Mark 7:26 - The woman was a Greek, a Syrophenician by nation; and she besought him that he would cast forth the devil out of her daughter.

Luke 23:38 - And a superscription also was written over him in letters of Greek, and Latin, and Hebrew, THIS IS THE KING OF THE JEWS.

Colossians 3:11 - Where there is neither Greek nor Jew, circumcision nor uncircumcision, Barbarian, Scythian, bond [nor] free: but Christ [is] all, and in all.

Acts 16:3 - Him would Paul have to go forth with him; and took and circumcised him because of the Jews which were in those quarters: for they knew all that his father was a Greek.

Romans 1:16 - For I am not ashamed of the gospel of Christ: for it is the power of God unto salvation to every one that believeth; to the Jew first, and also to the Greek.

Galatians 3:28 - There is neither Jew nor Greek, there is neither bond nor free, there is neither male nor female: for ye are all one in Christ Jesus.

Romans 10:12 - For there is no difference between the Jew and the Greek: for the same Lord over all is rich unto all that call upon him.

Galatians 2:3 - But neither Titus, who was with me, being a Greek, was compelled to be circumcised:

Zechariah 9:13 - When I have bent Judah for me, filled the bow with Ephraim, and raised up thy sons, O Zion, against thy sons, O Greece, and made thee as the sword of a mighty man.

Acts 20:2 - And when he had gone over those parts, and had given them much exhortation, he came into Greece