Clothing in the Time of Abraham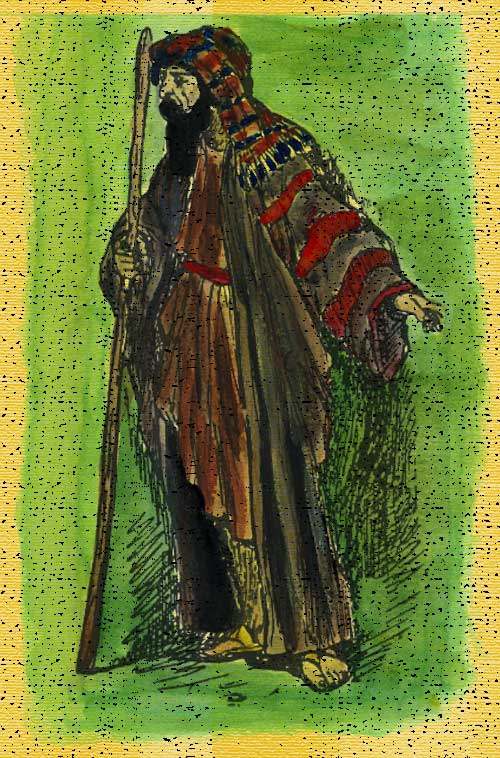 Ancient Clothing About 1800 B.C.
This is how a man or a patriarch would have dressed in ancient times about the time of Abraham which was around 1800 BC. From inside to out he wore an under garment which was bound by a girdle.
Over this he wore a coat or outer garment, sometimes called a vesture. Around the head was the head cloth which was a scarf wrapped around the head. He also wore sandals and carried a tall staff.
"Now Israel loved Joseph more than all his children, because he was the son of his old age: and he made him a coat of many colours."
- Genesis 37:3
"And he said, What pledge shall I give thee? And she said, Thy signet, and thy bracelets, and thy staff that is in thine hand. And he gave it her, and came in unto her, and she conceived by him."
- Genesis 38:18
"Thou shalt make thee fringes upon the four quarters of thy vesture, wherewith thou coverest thyself."
- Deut 22:12
"And he was clothed with a vesture dipped in blood: and his name is called The Word of God. And the armies which were in heaven followed him upon white horses, clothed in fine linen, white and clean."
- Revelation 19:13-14
Heart Message
A Covering for Every Age
The clothing of the ancients can help us ponder the gift of God's covering. We can be thankful that we don't have to wear that rough itchy & sweltering clothing of our forbearers. We can wear blue jeans, dresses, shirts and blouses made with a myriad of comfortable materials. But clothing itself points back to our initial deep-rooted problem with God. Every other creature has a covering that comes naturally, but we must cover ourselves. Why?
Then the eyes of both of them were opened, and they realized they were naked; so they sewed fig leaves together and made coverings for themselves. Gen. 3:7

Then the man and his wife heard the sound of the LORD God as he was walking in the garden in the cool of the day, and they hid from the LORD God among the trees of the garden. But the LORD God called to the man, "Where are you?" Gen 3:8,9

He answered, "I heard you in the garden, and I was afraid because I was naked; so I hid." And he said, "Who told you that you were naked? Gen. 3:10,11
Our first fore-parents sinned and their nature changed. They lost their sense of being covered. No longer at one with God in peace and innocence they became self-aware and felt shame. Then they did what we all do when we are ashamed: cover and hide. They experienced the cold chill of all time, a complete and horrifying sense of disconnection from God, and from each other, a sense of isolation, & impending doom. They lost a very special covering, the covering of God's presence, His light, and His surrounding glory. They felt exposed. They needed to be covered.
God immediately reaches out. He initiates. He calls. He seeks out the lost. He presses through the isolating shame.
He instructs by questions.
1) Where are you?
2) Who told you that you were naked?
He lets them know He is not going to leave them in their strong preference to be alone. He lets them know that their shame is not His creation. He gives them the strong truth of their condition, and something else, something brand new: the grace of clothing.
The LORD God made garments of skin for Adam and his wife and clothed them. Gen. 3:21
The Lord exchanged their fig leaves, with clothing born of sacrifice. Innocent animals died to re-cover Adam and Eve. An innocent Eternal Son would die to re-cover mankind in God's glory.
To this day we still hide, and He still calls. We hide behind our gifts, possessions and & presented identities. For those who can hear His call, and are willing to come out from the bushes and exchange their fig leaves for His covering in the sacrifice of Christ, He has new clothing planned.
After this I looked and there before me was a great multitude that no one could count, from every nation, tribe, people and language, standing before the throne and in front of the Lamb. They were wearing white robes and were holding palm branches in their hands. Rev. 7:9
Every generation has its clothing, all pointing back to our lost clothing of glory, our provided covering in God's self sacrifice, and our final redemption when we will be clothed in the righteousness of God forever.

The Bible mentions a lot regarding Clothing:
Isaiah 23:18 - And her merchandise and her hire shall be holiness to the LORD: it shall not be treasured nor laid up; for her merchandise shall be for them that dwell before the LORD, to eat sufficiently, and for durable clothing.

Jeremiah 10:9 - Silver spread into plates is brought from Tarshish, and gold from Uphaz, the work of the workman, and of the hands of the founder: blue and purple [is] their clothing: they [are] all the work of cunning [men].

Acts 10:30 - And Cornelius said, Four days ago I was fasting until this hour; and at the ninth hour I prayed in my house, and, behold, a man stood before me in bright clothing,

Isaiah 3:6 - When a man shall take hold of his brother of the house of his father, [saying], Thou hast clothing, be thou our ruler, and [let] this ruin [be] under thy hand:

James 2:3 - And ye have respect to him that weareth the gay clothing, and say unto him, Sit thou here in a good place; and say to the poor, Stand thou there, or sit here under my footstool:

Matthew 11:8 - But what went ye out for to see? A man clothed in soft raiment? behold, they that wear soft [clothing] are in kings' houses.

Mark 12:38 - And he said unto them in his doctrine, Beware of the scribes, which love to go in long clothing, and [love] salutations in the marketplaces,

Isaiah 59:17 - For he put on righteousness as a breastplate, and an helmet of salvation upon his head; and he put on the garments of vengeance [for] clothing, and was clad with zeal as a cloke.

Psalms 35:13 - But as for me, when they were sick, my clothing [was] sackcloth: I humbled my soul with fasting; and my prayer returned into mine own bosom.

Job 22:6 - For thou hast taken a pledge from thy brother for nought, and stripped the naked of their clothing.

Isaiah 3:7 - In that day shall he swear, saying, I will not be an healer; for in my house [is] neither bread nor clothing: make me not a ruler of the people.

Matthew 7:15 - Beware of false prophets, which come to you in sheep's clothing, but inwardly they are ravening wolves.

Psalms 45:13 - The king's daughter [is] all glorious within: her clothing [is] of wrought gold.

Proverbs 31:22 - She maketh herself coverings of tapestry; her clothing [is] silk and purple.

Job 24:7 - They cause the naked to lodge without clothing, that [they have] no covering in the cold.

Proverbs 27:26 - The lambs [are] for thy clothing, and the goats [are] the price of the field.

Proverbs 31:25 - Strength and honour [are] her clothing; and she shall rejoice in time to come.

Job 24:10 - They cause [him] to go naked without clothing, and they take away the sheaf [from] the hungry;

Job 31:19 - If I have seen any perish for want of clothing, or any poor without covering;