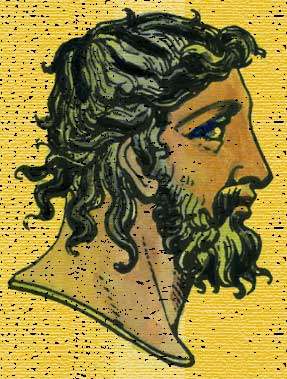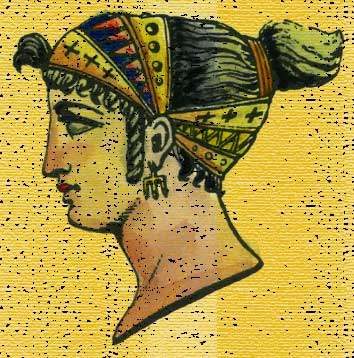 Illustrations of a Greek Man and Woman

This sketch illustrates how the appearance of a Greek man or woman might have been.

In the ancient world the Greeks were simply, people from Greece. But in Israel all non-Jews from the outside world were considered Greeks, and spoke barbarian. When they came to Jerusalem at Passover to worship the Jewish God they were considered "proselytes", because they accepted the Jewish religion. The above hair styles were common among the ancient Greek people.

"Then said Jesus unto them, Yet a little while am I with you, and then I go unto him that sent me. Ye shall seek me, and shall not find me: and where I am, thither ye cannot come. Then said the Jews among themselves, Whither will he go, that we shall not find him? will he go unto the dispersed among the Greeks, and teach the Greeks? - John 7:33-35
"The Pharisees therefore said among themselves, Perceive ye how ye prevail nothing? behold, the world is gone after him. And there were certain Greeks among them that came up to worship at the feast: The same came therefore to Philip, which was of Bethsaida of Galilee, and desired him, saying, Sir, we would see Jesus. Philip cometh and telleth Andrew: and again Andrew and Philip tell Jesus. And Jesus answered them, saying, The hour is come, that the Son of man should be glorified." - John 12:19-23

The Bible mentions a lot Concerning "Greece" and the "Greeks"
Acts 21:37 - And as Paul was to be led into the castle, he said unto the chief captain, May I speak unto thee? Who said, Canst thou speak Greek?

Revelation 9:11 - And they had a king over them, [which is] the angel of the bottomless pit, whose name in the Hebrew tongue [is] Abaddon, but in the Greek tongue hath [his] name Apollyon.

John 19:20 - This title then read many of the Jews: for the place where Jesus was crucified was nigh to the city: and it was written in Hebrew, [and] Greek, [and] Latin.

Acts 16:1 - Then came he to Derbe and Lystra: and, behold, a certain disciple was there, named Timotheus, the son of a certain woman, which was a Jewess, and believed; but his father [was] a Greek:

Mark 7:26 - The woman was a Greek, a Syrophenician by nation; and she besought him that he would cast forth the devil out of her daughter.

Luke 23:38 - And a superscription also was written over him in letters of Greek, and Latin, and Hebrew, THIS IS THE KING OF THE JEWS.

Colossians 3:11 - Where there is neither Greek nor Jew, circumcision nor uncircumcision, Barbarian, Scythian, bond [nor] free: but Christ [is] all, and in all.

Acts 16:3 - Him would Paul have to go forth with him; and took and circumcised him because of the Jews which were in those quarters: for they knew all that his father was a Greek.

Romans 1:16 - For I am not ashamed of the gospel of Christ: for it is the power of God unto salvation to every one that believeth; to the Jew first, and also to the Greek.

Galatians 3:28 - There is neither Jew nor Greek, there is neither bond nor free, there is neither male nor female: for ye are all one in Christ Jesus.

Romans 10:12 - For there is no difference between the Jew and the Greek: for the same Lord over all is rich unto all that call upon him.

Galatians 2:3 - But neither Titus, who was with me, being a Greek, was compelled to be circumcised:

Zechariah 9:13 - When I have bent Judah for me, filled the bow with Ephraim, and raised up thy sons, O Zion, against thy sons, O Greece, and made thee as the sword of a mighty man.

Acts 20:2 - And when he had gone over those parts, and had given them much exhortation, he came into Greece.