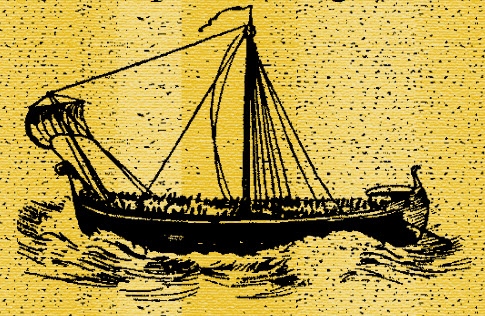 Illustration of an Paul's Ship to the Island of Malta
The Apostle Paul's ship was actually a grain ship like the image above. It was of enormous size and the corn ship that Paul traveled on carried 276 men. Ships of this size had a tonnage of 2,600 tons.
The hull ran up to a bird's-head carving above the bows and a bird's-tail at the stern. In the midst was a high mast, usually of cedar wood and near the prow was a smaller one for hoisting a small sail. Two large oars were used to steer. On the deck was a wooden hut for the helmsman which was also used as a temple of worship containing an idol.
The below sketch shows the ship that Paul had traveled on anchored on the fourteenth day of the storm. Scholars have calculated that a ship sailing under the conditions mentioned in Acts 27 would need just fourteen days to get from Crete to Malta:
"And as day was about to dawn, Paul implored them all to take food, saying, "Today is the fourteenth day you have waited and continued without food, and eaten nothing. Therefore I urge you to take nourishment, for this is for your survival, since not a hair will fall from the head of any of you." And when he had said these things, he took bread and gave thanks to God in the presence of them all; and when he had broken it he began to eat. Then they were all encouraged, and also took food themselves. And in all we were two hundred and seventy-six persons on the ship. So when they had eaten enough, they lightened the ship and threw out the wheat into the sea.
When it was day, they did not recognize the land; but they observed a bay with a beach, onto which they planned to run the ship if possible. And they let go the anchors and left them in the sea, meanwhile loosing the rudder ropes; and they hoisted the mainsail to the wind and made for shore. But striking a place where two seas met, they ran the ship aground; and the prow stuck fast and remained immovable, but the stern was being broken up by the violence of the waves.
And the soldiers' plan was to kill the prisoners, lest any of them should swim away and escape. But the centurion, wanting to save Paul, kept them from their purpose, and commanded that those who could swim should jump overboard first and get to land, and the rest, some on boards and some on parts of the ship. And so it was that they all escaped safely to land."
- Acts 27:33-44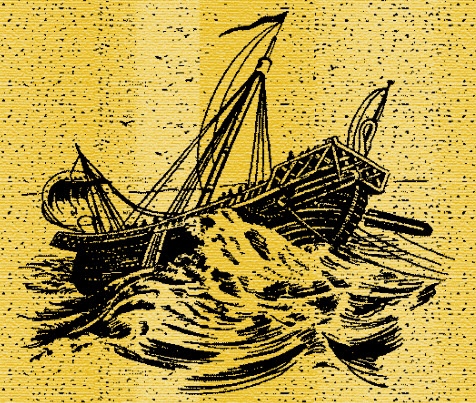 Paul in Eastons Bible Dictionary
Paul in Smiths Bible Dictionary

Heart Message
Paul's Ship To Malta

Last night an angel of the God whose I am and whom I serve stood beside me and said, 'Do not be afraid, Paul. You must stand trial before Caesar; and God has graciously given you the lives of all who sail with you.' Acts 27:23, 24

A trainer at work instructed me to "make myself indispensable" by gaining expertise in as many jobs, tasks, and positions as possible. Whenever a task was offered her that wasn't her suit, she would cheerfully respond, "no problem, its job security".

When the Apostle Paul's life was threatened through this terrible storm, he seemed to be walking in "kingdom security". God had plans for his future that Paul submitted to. He had to "stand trial before Caesar". He was doing his part in making himself "indispensable" as a worker. Of course, all analogies break down, and without pretending to come up with a formula for long life, or presumably explain why good or bad things happen to any of us, it is still notable that this ship was saved, because someone was walking in their call, and their mission was not complete.

Sometimes wisdom can be gained by inverting the situation. Had Paul not been on this ship, would God have saved the lives of those on board? No one can know for sure, but if someone put a gun to my head, and demanded that I choose the most likely answer, I would have to say no. Paul made clear that if they didn't all stay with him on board, the gracious deal that God had offered was off.

In an attempt to escape from the ship, the sailors let the lifeboat down into the sea, pretending they were going to lower some anchors from the bow. Then Paul said to the centurion and the soldiers, "Unless these men stay with the ship, you cannot be saved." So the soldiers cut the ropes that held the lifeboat and let it fall away.

This scripture implies that it's safer to be in the will of God in a dangerous storm, than out of the will of God on dry land. Sometimes we have to cut the ropes of our own lifeboats to gain the full protection of the Lord's direction and will. Lest we fear because we don't know the will of God, we can simply say everyday, "thy kingdom come, thy will be done, in my life, as it is in heaven." Let us risk more to follow what the Lord has spoken to our hearts, than try to play it safe because of our fears of people.
Let us dream again the dreams he instilled in our hearts being willing to cast another net into the ocean, though we toiled all night catching nothing. And let us not fear the wind and waves, or loss of ship, but rather keep our focus on His will, His desire, and His purpose for our lives, knowing that He will bring us to His appointments on his calendar, in his season, and may He over flow grace to those around us.

The Bible Mentions "Paul"
1 Thessalonians 1:1 - Paul, and Silvanus, and Timotheus, unto the church of the Thessalonians [which is] in God the Father and [in] the Lord Jesus Christ: Grace [be] unto you, and peace, from God our Father, and the Lord Jesus Christ.

2 Timothy 1:1 - Paul, an apostle of Jesus Christ by the will of God, according to the promise of life which is in Christ Jesus,

Ephesians 1:1 - Paul, an apostle of Jesus Christ by the will of God, to the saints which are at Ephesus, and to the faithful in Christ Jesus:

1 Timothy 1:1 - Paul, an apostle of Jesus Christ by the commandment of God our Saviour, and Lord Jesus Christ, [which is] our hope;

Philippians 1:1 - Paul and Timotheus, the servants of Jesus Christ, to all the saints in Christ Jesus which are at Philippi, with the bishops and deacons:

Acts 20:9 - And there sat in a window a certain young man named Eutychus, being fallen into a deep sleep: and as Paul was long preaching, he sunk down with sleep, and fell down from the third loft, and was taken up dead.

Acts 23:6 - But when Paul perceived that the one part were Sadducees, and the other Pharisees, he cried out in the council, Men [and] brethren, I am a Pharisee, the son of a Pharisee: of the hope and resurrection of the dead I am called in question.

Acts 23:11 - And the night following the Lord stood by him, and said, Be of good cheer, Paul: for as thou hast testified of me in Jerusalem, so must thou bear witness also at Rome.

2 Timothy 4:22 - The Lord Jesus Christ [be] with thy spirit. Grace [be] with you. Amen. <[The second [epistle] unto Timotheus, ordained the first bishop of the church of the Ephesians, was written from Rome, when Paul was brought before Nero the second time.]>

Acts 18:14 - And when Paul was now about to open [his] mouth, Gallio said unto the Jews, If it were a matter of wrong or wicked lewdness, O [ye] Jews, reason would that I should bear with you:

Acts 19:13 - Then certain of the vagabond Jews, exorcists, took upon them to call over them which had evil spirits the name of the Lord Jesus, saying, We adjure you by Jesus whom Paul preacheth.

Acts 23:3 - Then said Paul unto him, God shall smite thee, [thou] whited wall: for sittest thou to judge me after the law, and commandest me to be smitten contrary to the law?

Acts 23:18 - So he took him, and brought [him] to the chief captain, and said, Paul the prisoner called me unto [him], and prayed me to bring this young man unto thee, who hath something to say unto thee.

Acts 24:27 - But after two years Porcius Festus came into Felix' room: and Felix, willing to shew the Jews a pleasure, left Paul bound.

Acts 21:39 - But Paul said, I am a man [which am] a Jew of Tarsus, [a city] in Cilicia, a citizen of no mean city: and, I beseech thee, suffer me to speak unto the people.

Acts 21:37 - And as Paul was to be led into the castle, he said unto the chief captain, May I speak unto thee? Who said, Canst thou speak Greek?

Acts 16:9 - And a vision appeared to Paul in the night; There stood a man of Macedonia, and prayed him, saying, Come over into Macedonia, and help us.

Acts 21:32 - Who immediately took soldiers and centurions, and ran down unto them: and when they saw the chief captain and the soldiers, they left beating of Paul.

Acts 27:24 - Saying, Fear not, Paul; thou must be brought before Caesar: and, lo, God hath given thee all them that sail with thee.

1 Corinthians 3:22 - Whether Paul, or Apollos, or Cephas, or the world, or life, or death, or things present, or things to come; all are yours;

Acts 15:22 - Then pleased it the apostles and elders, with the whole church, to send chosen men of their own company to Antioch with Paul and Barnabas; [namely], Judas surnamed Barsabas, and Silas, chief men among the brethren:

Acts 16:14 - And a certain woman named Lydia, a seller of purple, of the city of Thyatira, which worshipped God, heard [us]: whose heart the Lord opened, that she attended unto the things which were spoken of Paul.

Acts 25:23 - And on the morrow, when Agrippa was come, and Bernice, with great pomp, and was entered into the place of hearing, with the chief captains, and principal men of the city, at Festus' commandment Paul was brought forth.

Acts 28:17 - And it came to pass, that after three days Paul called the chief of the Jews together: and when they were come together, he said unto them, Men [and] brethren, though I have committed nothing against the people, or customs of our fathers, yet was I delivered prisoner from Jerusalem into the hands of the Romans.

Colossians 1:23 - If ye continue in the faith grounded and settled, and [be] not moved away from the hope of the gospel, which ye have heard, [and] which was preached to every creature which is under heaven; whereof I Paul am made a minister;

Acts 23:10 - And when there arose a great dissension, the chief captain, fearing lest Paul should have been pulled in pieces of them, commanded the soldiers to go down, and to take him by force from among them, and to bring [him] into the castle.

Acts 13:50 - But the Jews stirred up the devout and honourable women, and the chief men of the city, and raised persecution against Paul and Barnabas, and expelled them out of their coasts.

Acts 21:40 - And when he had given him licence, Paul stood on the stairs, and beckoned with the hand unto the people. And when there was made a great silence, he spake unto [them] in the Hebrew tongue, saying,

Acts 22:30 - On the morrow, because he would have known the certainty wherefore he was accused of the Jews, he loosed him from [his] bands, and commanded the chief priests and all their council to appear, and brought Paul down, and set him before them.

Acts 24:10 - Then Paul, after that the governor had beckoned unto him to speak, answered, Forasmuch as I know that thou hast been of many years a judge unto this nation, I do the more cheerfully answer for myself: