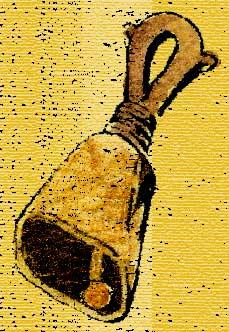 Example of a Handbell from the Ancient World

In ancient times the handbell was played as a musical instrument.

The Bible mentions a lot regarding Playing Music
2 Samuel 6:21 - And David said unto Michal, [It was] before the LORD, which chose me before thy father, and before all his house, to appoint me ruler over the people of the LORD, over Israel: therefore will I play before the LORD.
1 Samuel 16:16 - Let our lord now command thy servants, [which are] before thee, to seek out a man, [who is] a cunning player on an harp: and it shall come to pass, when the evil spirit from God is upon thee, that he shall play with his hand, and thou shalt be well.
Ezekiel 33:32 - And, lo, thou [art] unto them as a very lovely song of one that hath a pleasant voice, and can play well on an instrument: for they hear thy words, but they do them not.
Psalms 33:3 - Sing unto him a new song; play skilfully with a loud noise.
1 Samuel 16:17 - And Saul said unto his servants, Provide me now a man that can play well, and bring [him] to me.