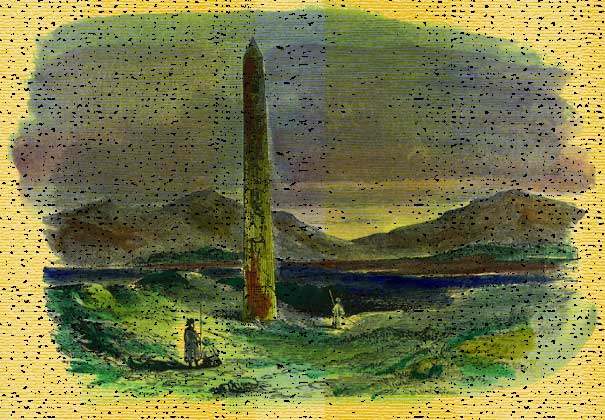 Ancient Obelisks were Idols of Gods' Anger

The ancient obelisk was a monumental pillar made of stone and was a major symbol of sun worship of the god ra in ancient Egypt.
The Lord referred to them as idols of jealousy and swore that He would destroy the obelisks of Heliopolis and "overthrow idolatry." The above image is from Heliopolis which was the Greek name of the Hebrew Beth-shemesh. It was erected by Senwosret I of Egypt, 2000 BC. Ancient Heliopolis was located 8 miles northeast of modern Cairo and was world famous as the Egyptian city of science.
"Thou shalt have no other gods before me. Thou shalt not make unto thee any graven image, or any likeness of any thing that is in heaven above, or that is in the earth beneath, or that is in the water under the earth: Thou shalt not bow down thyself to them, nor serve them: for I the LORD thy God am a jealous God"
- Exodus 20:3-5
"He shall break also the images of Bethshemesh, that is in the land of Egypt; and the houses of the gods of the Egyptians shall he burn with fire."
- Jeremiah 43:13
"And they shall know that I am the LORD, when I have set a fire in Egypt, and when all her helpers shall be destroyed."
- Ezekiel 30:8
"Thus saith the Lord GOD; Because thy filthiness was poured out, and thy nakedness discovered through thy whoredoms with thy lovers, and with all the idols of thy abominations, and by the blood of thy children, which thou didst give unto them; Behold, therefore I will gather all thy lovers, with whom thou hast taken pleasure, and all them that thou hast loved, with all them that thou hast hated; I will even gather them round about against thee, and will discover thy nakedness unto them, that they may see all thy nakedness."
- Ezekiel 16:36-37
"And lest thou lift up thine eyes unto heaven, and when thou seest the sun, and the moon, and the stars, even all the host of heaven, shouldest be driven to worship them, and serve them, which the LORD thy God hath divided unto all nations under the whole heaven."
- Deut 4:19

The Bible mentions a lot regarding idols:
Romans 2:22 - Thou that sayest a man should not commit adultery, dost thou commit adultery? thou that abhorrest idols, dost thou commit sacrilege?

2 Kings 21:21 - And he walked in all the way that his father walked in, and served the idols that his father served, and worshipped them:

Ezekiel 22:4 - Thou art become guilty in thy blood that thou hast shed; and hast defiled thyself in thine idols which thou hast made; and thou hast caused thy days to draw near, and art come [even] unto thy years: therefore have I made thee a reproach unto the heathen, and a mocking to all countries.

Jeremiah 50:2 - Declare ye among the nations, and publish, and set up a standard; publish, [and] conceal not: say, Babylon is taken, Bel is confounded, Merodach is broken in pieces; her idols are confounded, her images are broken in pieces.

Micah 1:7 - And all the graven images thereof shall be beaten to pieces, and all the hires thereof shall be burned with the fire, and all the idols thereof will I lay desolate: for she gathered [it] of the hire of an harlot, and they shall return to the hire of an harlot.

Ezekiel 6:6 - In all your dwellingplaces the cities shall be laid waste, and the high places shall be desolate; that your altars may be laid waste and made desolate, and your idols may be broken and cease, and your images may be cut down, and your works may be abolished.

Habakkuk 2:18 - What profiteth the graven image that the maker thereof hath graven it; the molten image, and a teacher of lies, that the maker of his work trusteth therein, to make dumb idols?

2 Kings 21:11 - Because Manasseh king of Judah hath done these abominations, [and] hath done wickedly above all that the Amorites did, which [were] before him, and hath made Judah also to sin with his idols:

Ezekiel 18:12 - Hath oppressed the poor and needy, hath spoiled by violence, hath not restored the pledge, and hath lifted up his eyes to the idols, hath committed abomination,

2 Corinthians 6:16 - And what agreement hath the temple of God with idols? for ye are the temple of the living God; as God hath said, I will dwell in them, and walk in [them]; and I will be their God, and they shall be my people.

Isaiah 19:1 - The burden of Egypt. Behold, the LORD rideth upon a swift cloud, and shall come into Egypt: and the idols of Egypt shall be moved at his presence, and the heart of Egypt shall melt in the midst of it.

Ezekiel 18:6 - [And] hath not eaten upon the mountains, neither hath lifted up his eyes to the idols of the house of Israel, neither hath defiled his neighbour's wife, neither hath come near to a menstruous woman,

Ezekiel 23:37 - That they have committed adultery, and blood [is] in their hands, and with their idols have they committed adultery, and have also caused their sons, whom they bare unto me, to pass for them through [the fire], to devour [them].

Ezekiel 30:13 - Thus saith the Lord GOD; I will also destroy the idols, and I will cause [their] images to cease out of Noph; and there shall be no more a prince of the land of Egypt: and I will put a fear in the land of Egypt.

Zechariah 13:2 - And it shall come to pass in that day, saith the LORD of hosts, [that] I will cut off the names of the idols out of the land, and they shall no more be remembered: and also I will cause the prophets and the unclean spirit to pass out of the land.

2 Chronicles 15:8 - And when Asa heard these words, and the prophecy of Oded the prophet, he took courage, and put away the abominable idols out of all the land of Judah and Benjamin, and out of the cities which he had taken from mount Ephraim, and renewed the altar of the LORD, that [was] before the porch of the LORD.

Ezekiel 14:7 - For every one of the house of Israel, or of the stranger that sojourneth in Israel, which separateth himself from me, and setteth up his idols in his heart, and putteth the stumblingblock of his iniquity before his face, and cometh to a prophet to enquire of him concerning me; I the LORD will answer him by myself:

Revelation 2:14 - But I have a few things against thee, because thou hast there them that hold the doctrine of Balaam, who taught Balac to cast a stumblingblock before the children of Israel, to eat things sacrificed unto idols, and to commit fornication.

2 Kings 23:24 - Moreover the [workers with] familiar spirits, and the wizards, and the images, and the idols, and all the abominations that were spied in the land of Judah and in Jerusalem, did Josiah put away, that he might perform the words of the law which were written in the book that Hilkiah the priest found in the house of the LORD.

Ezekiel 18:15 - [That] hath not eaten upon the mountains, neither hath lifted up his eyes to the idols of the house of Israel, hath not defiled his neighbour's wife,

Leviticus 26:1 - Ye shall make you no idols nor graven image, neither rear you up a standing image, neither shall ye set up [any] image of stone in your land, to bow down unto it: for I [am] the LORD your God.

Psalms 106:38 - And shed innocent blood, [even] the blood of their sons and of their daughters, whom they sacrificed unto the idols of Canaan: and the land was polluted with blood.

Revelation 2:20 - Notwithstanding I have a few things against thee, because thou sufferest that woman Jezebel, which calleth herself a prophetess, to teach and to seduce my servants to commit fornication, and to eat things sacrificed unto idols.

Ezekiel 20:8 - But they rebelled against me, and would not hearken unto me: they did not every man cast away the abominations of their eyes, neither did they forsake the idols of Egypt: then I said, I will pour out my fury upon them, to accomplish my anger against them in the midst of the land of Egypt.

Ezekiel 20:31 - For when ye offer your gifts, when ye make your sons to pass through the fire, ye pollute yourselves with all your idols, even unto this day: and shall I be enquired of by you, O house of Israel? [As] I live, saith the Lord GOD, I will not be enquired of by you.

Isaiah 19:3 - And the spirit of Egypt shall fail in the midst thereof; and I will destroy the counsel thereof: and they shall seek to the idols, and to the charmers, and to them that have familiar spirits, and to the wizards.

Ezekiel 44:12 - Because they ministered unto them before their idols, and caused the house of Israel to fall into iniquity; therefore have I lifted up mine hand against them, saith the Lord GOD, and they shall bear their iniquity.

1 Corinthians 10:19 - What say I then? that the idol is any thing, or that which is offered in sacrifice to idols is any thing?

Ezekiel 6:9 - And they that escape of you shall remember me among the nations whither they shall be carried captives, because I am broken with their whorish heart, which hath departed from me, and with their eyes, which go a whoring after their idols: and they shall lothe themselves for the evils which they have committed in all their abominations.

Ezekiel 36:25 - Then will I sprinkle clean water upon you, and ye shall be clean: from all your filthiness, and from all your idols, will I cleanse you.