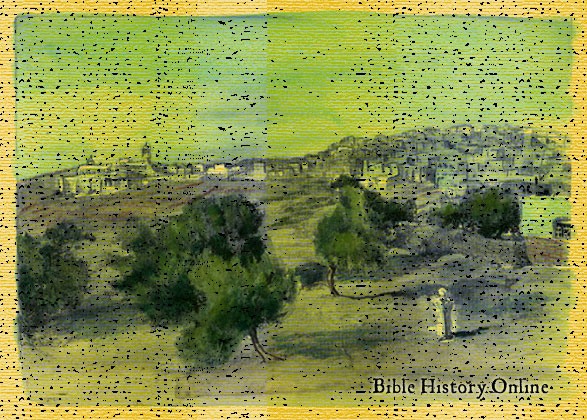 Painted sketch of Bethlehem of Judea. The city of Bethlehem was located in the fertile hill country, about 6 miles to the southwest of Jerusalem. Joseph and Mary were obeying the law given by Caesar Augustus to come to their ancestral homeland which was Bethlehem. Ephratah was the ancient name of Bethlehem Judah during the time of Jacob, the father of the twelve tribes. There was much history in this location, Jacob buried his beloved Rachel near the gate at Bethlehem, it also was the home of Ruth and the birthplace of king David, and of course "David's greater son" the Lord Jesus Christ. Bethlehem means the House of Bread, and the land was inherited by the tribe of Judah, the messianic tribe.

2Micah 5:2 - But thou, Bethlehem Ephratah, though thou be little among the thousands of Judah, yet out of thee shall he come forth unto me that is to be ruler in Israel; whose goings forth have been from of old, from everlasting.

Luke 2:4 - And Joseph also went up from Galilee, out of the city of Nazareth, into Judaea, unto the city of David, which is called Bethlehem; (because he was of the house and lineage of David:)
Matthew 2:1 - Now when Jesus was born in Bethlehem of Judaea in the days of Herod the king, behold, there came wise men from the east to Jerusalem,
Luke 2:15 - And it came to pass, as the angels were gone away from them into heaven, the shepherds said one to another, Let us now go even unto Bethlehem, and see this thing which is come to pass, which the Lord hath made known unto us.