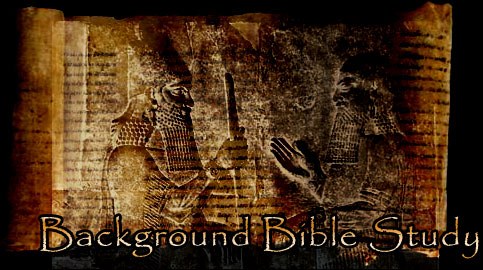 Ancient Manners and Customs, Daily Life, Cultures, Bible Lands
When we study the Bible we almost always come across references to the people, places, and things of the ancient Middle Eastern world. We find walled cities, bronze gates, streets, threshing instruments, and carts used in agriculture, large houses with cornerstones, and courtyards. Altars for sacrifice, lavers for cleansing, multicolored curtains to separate God's priests from the holy place and the holy of holies.
A Clearer Picture of the Past
The difficult part of Bible study is trying to get an image or picture of what it really looked like in the ancient world. To go back in time and research what it was really like, is what this Bible study is about. What did a barber's razor look like? What was a watchtower? What are fortresses and bulwarks? Where exactly was ancient Canaan, and what gods did they worship? To understand the background of the Bible, is to understand the Bible better. There are volumes of books, encyclopedias, and dictionaries that cover these subjects in great detail. It is our purpose in this background Bible study to offer illustrations and information about the ancient world, and daily living in the lands of the Bible. Nations like Rome, Greece, Egypt, Israel, Assyria, Babylon, Persia to name a few, all had distinct lifestyles, cultures, appearances, and peculiarities unique to their civilizations. The drawings in this section are mainly based on data provided directly by archaeological research, and primarily through archaeological excavations. It is not our purpose to base these illustrations on speculation, and the information provided regarding subjects dealing with the background of the Bible is factual and opinions are avoided especially on controversial subjects. In order to become more closely connected with the past, we will also provide frequent quotations from ancient sources.
The Bible Teaches us to Study, and Learn the Word of God, and to Grow
Romans 10:17 - So then faith cometh by hearing, and hearing by the word of God.
2 Timothy 2:15 - Study to shew thyself approved unto God, a workman that needeth not to be ashamed, rightly dividing the word of truth.
1 Peter 2:2 - As newborn babes, desire the sincere milk of the word, that ye may grow thereby:
2 Peter 3:18 - But grow in grace, and in the knowledge of our Lord and Saviour Jesus Christ. To him [be] glory both now and for ever. Amen.
Psalms 56:10 - In God will I praise his word: in the LORD will I praise his word.
Matthew 9:13 - But go ye and learn what that meaneth, I will have mercy, and not sacrifice: for I am not come to call the righteous, but sinners to repentance.

Matthew 11:29 - Take my yoke upon you, and learn of me; for I am meek and lowly in heart: and ye shall find rest unto your souls.
Jeremiah 44:26 - Therefore hear ye the word of the LORD..
Isaiah 28:13 - But the word of the LORD was unto them precept upon precept..
Jeremiah 28:12 - Then the word of the LORD came unto Jeremiah the prophet..
Ezekiel 20:47 - Hear the word of the LORD; Thus saith the Lord GOD; Behold, I will kindle a fire in thee..
Bible Study Topics
--------------------------------------------------------------------------------

Bible Study and Faith
"The Bible is the most priceless possession of the human race." - Henry H. Halley
"This handbook is dedicated to the proposition that every Christian should be a constant and devoted reader of the Bible, and that the primary business of the church and ministry is to lead, foster, and encourage their people in the habit."
"The vigor of our spiritual life will be in exact proportion to the place held by the Bible in our life and thoughts."
"Great has been the blessing from consecutive, diligent, daily study. I look upon it as a lost day when I have not had a good time over the word of God." - George Muller
"I prayed for faith, and thought that some day faith would come down and strike me like lightning. But faith did not seem to come. One day I read in the 10th chapter of Romans, 'Now faith cometh by hearing, and hearing by the word of God.' I had closed my Bible, and prayed for faith. I now opened my Bible, and began to study, and faith has been growing ever since." - D. L. Moody
-H. H. Halley "Halley's Bible Handbook" (Grand Rapids: Zondervan, 1960) p. 4, 6
--------------------------------------------------------------------------------
Archaeological Study of the Bible
"A substantial proof for the accuracy of the Old Testament text has come from archaeology. Numerous discoveries have confirmed the historical accuracy of the biblical documents, even down to the obsolete names of foreign kings... Rather than a manifestation of complete ignorance of the facts of its day, the biblical record thus reflects a great knowledge by the writer of his day, as well as precision in textual transmission."
-Norman L. Geisler, William Nix "A General Introduction to the Bible" 5th Edition (Chicago: Moody Press 1983) p. 253
--------------------------------------------------------------------------------

Bibliography on Ancient Images
The Art of Ancient Egypt, Revised by Robins, 272 Pages, Pub. 2008
Return to Background Bible Study