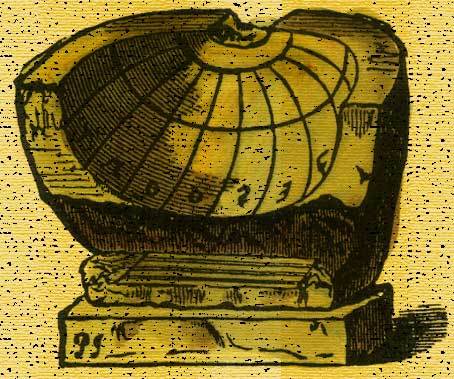 Shadow of Time Revealed on a Sun Dial

This ancient sun dial reveals the hours in a day. It has a surface with hour lines and a stick or gnomon which casts a shadow as the sun advances in its daily course.
The sun dial is mentioned in the Bible as far back as the time of King Ahaz. Herodotus mentions that the sun dial was in use before his time in Babylonia.
"And Hezekiah said unto Isaiah, What shall be the sign that the LORD will heal me, and that I shall go up into the house of the LORD the third day? And Isaiah said, This sign shalt thou have of the LORD, that the LORD will do the thing that he hath spoken: shall the shadow go forward ten degrees, or go back ten degrees? And Hezekiah answered, It is a light thing for the shadow to go down ten degrees: nay, but let the shadow return backward ten degrees. And Isaiah the prophet cried unto the LORD: and he brought the shadow ten degrees backward, by which it had gone down in the dial of Ahaz."
- 2 Kings 20:8-11
"Then came the word of the LORD to Isaiah, saying, Go, and say to Hezekiah, Thus saith the LORD, the God of David thy father, I have heard thy prayer, I have seen thy tears: behold, I will add unto thy days fifteen years. And I will deliver thee and this city out of the hand of the king of Assyria: and I will defend this city. And this shall be a sign unto thee from the LORD, that the LORD will do this thing that he hath spoken; Behold, I will bring again the shadow of the degrees, which is gone down in the sun dial of Ahaz, ten degrees backward. So the sun returned ten degrees, by which degrees it was gone down. The writing of Hezekiah king of Judah, when he had been sick, and was recovered of his sickness"
- Isaiah 38:4-9
"See then that ye walk circumspectly, not as fools, but as wise, Redeeming the time, because the days are evil. Wherefore be ye not unwise, but understanding what the will of the Lord is."
- Ephesians 5:15-17
"But when the fulness of the time was come, God sent forth his Son, made of a woman, made under the law, To redeem them that were under the law, that we might receive the adoption of sons."
- Galatians 4:4-5
"The God who made the world and all things in it, since He is Lord of heaven and earth, does not dwell in temples made with hands; nor is He served by human hands, as though He needed anything, since He Himself gives to all people life and breath and all things; and He made from one man every nation of mankind to live on all the face of the earth, having determined their appointed times and the boundaries of their habitation, that they would seek God, if perhaps they might grope for Him and find Him, though He is not far from each one of us; for in Him we live and move and exist, as even some of your own poets have said, `For we also are His children."
- Acts 17:24-28
Heart Message
The Sun Dial
From sunrise to sunset, the shadow of the sun, slowly crosses the face of the sundial, and the mystery of time is placed on display. Time is something we take for granted. Try to define time, and you will immediately run into great paradoxes and mysteries.

Here's 'Webster's definition: "a nonspatial continuum that is measured in terms of events which succeed one another from past through present to future."

What is time? Does it actually exist? Is there an actual real time, that we are trying to measure or is time a human invention to describe the passing of events? Is it simply a function of memory? Some believe there is only an 'eternal now', and time is an illusion. But time stands or falls with space and motion. If there is no time, motion and place must be illusion as well. Try measuring speed (motion) without time. Try to think of traveling from one place to the other, without the notion of time. "I was there, I am here, I will be there." And it took so much time to make the trip. New Age Adherents still use past, present and future tenses in language. They live and describe their lives in terms of past, present and future. Yes, time, space and matter exist, despite attempts to dismiss them as illusion.

Is time finite, or eternal? Did it always exist, or did it have a beginning? If it is finite, then it had a beginning. But then one must ask what happened before time? If time is eternal, meaning it always was and always will be, then we could never have arrived in the present moment since an eternal amount of moments could never come to pass.

Is the universe eternal? Can an eternal amount of events ever come to pass? Try imagining a chain hanging in air, each link holding up the one before it. Doesn't there need to be an original link hooked to a nail? As each event in the universe causes the next succeeding event to take place, there must be an original event that began the chain.

Let's put it another way. Every effect in time, was caused by the event before it. Picture a long string of dominoes, each one being pushed over by the one before it. There is always the first domino. Likewise there cannot be an eternal regress of causes and effects, for an eternal amount of events could never come to pass. Therefore there has to be a First Cause to all the effects of the universe. No matter how many dominoes you count, or examine in the Universe, at some point you still must get to the First Cause, that my friends is God. He is the Uncaused Cause of all Causation. And He wants you to know that whatever portion of creation you examine, it will all point back to Him. And thankfully, He is good, and He loves you.

Let's note some other features of our universe. The universe is expanding. If you were to run a movie of the universe expanding, and then reverse it, you would see all matter coming back together to an original point.

The universe is cooling, meaning that the available amount of energy giving light and heat to the universe is running down. No new energy is being created. These are two laws of thermodynamics. The universe could not have been cooling down for eternity, or it would have completely burnt itself out by now.

What does all of this mean? It means time and all of creation had a beginning. They call it "The Big Bang"; the moment when all mass and energy were created and began expanding. But what was the Cause of the Big Bang? If they do find a cause one day, one must certainly ask, "Then what caused that?" In fact, you can ask, "What caused that?" to every event in the Universe. But you must one day come to the original event, for an eternal amount of events would never even reach the event that you stand in today.

Then what caused God? Many atheists think they have arrived at the death blow question with this. But my friends, we have only two choices: either an eternal Universe or an eternal God. Which seems more logical?

We have already seen that the Universe is expanding, running out of energy and began at the Big Bang. Not only that, but the universe is full of transcendent things, like love, good, evil, beauty and justice. All of which would not exist, if the Universe were simply a random collection of molecules eternally bouncing around. The Universe doesn't seem to be random at all, instead it seems to show great design. No atheistic nature show can tell the story of any creature without using the word design. Nature designs, nature in it's wisdom provided. But what is nature? It is nothing. But they won't say, "nothing created, nothing in it's wisdom provided." Nature is a substitute for the word God.

Either Mind made matter, or matter made Mind.

The time displayed on a simple ancient sundial, points to the Creator of time, space and matter. If we live to be 70 years old, the shadow on the sundial would cross the its face 25,550 times by the time of our death. Let's honor our Creator by giving Him the glory for the gift of time. It is a precious gift, from The Precious Gift Giver.
Psalm 19
The heavens declare the glory of God;
the skies proclaim the work of his hands.
Day after day they pour forth speech;
night after night they display knowledge.
There is no speech or language
where their voice is not heard.
Their voice goes out into all the earth,
their words to the ends of the world.

The Bible mentions time and the "hour" many times:
Daniel 4:19 - Then Daniel, whose name [was] Belteshazzar, was astonied for one hour, and his thoughts troubled him. The king spake, and said, Belteshazzar, let not the dream, or the interpretation thereof, trouble thee. Belteshazzar answered and said, My lord, the dream [be] to them that hate thee, and the interpretation thereof to thine enemies.

Revelation 3:3 - Remember therefore how thou hast received and heard, and hold fast, and repent. If therefore thou shalt not watch, I will come on thee as a thief, and thou shalt not know what hour I will come upon thee.

Daniel 3:15 - Now if ye be ready that at what time ye hear the sound of the cornet, flute, harp, sackbut, psaltery, and dulcimer, and all kinds of musick, ye fall down and worship the image which I have made; [well]: but if ye worship not, ye shall be cast the same hour into the midst of a burning fiery furnace; and who [is] that God that shall deliver you out of my hands?

Luke 10:21 - In that hour Jesus rejoiced in spirit, and said, I thank thee, O Father, Lord of heaven and earth, that thou hast hid these things from the wise and prudent, and hast revealed them unto babes: even so, Father; for so it seemed good in thy sight.

John 5:25 - Verily, verily, I say unto you, The hour is coming, and now is, when the dead shall hear the voice of the Son of God: and they that hear shall live.

Revelation 18:19 - And they cast dust on their heads, and cried, weeping and wailing, saying, Alas, alas, that great city, wherein were made rich all that had ships in the sea by reason of her costliness! for in one hour is she made desolate.

John 4:23 - But the hour cometh, and now is, when the true worshippers shall worship the Father in spirit and in truth: for the Father seeketh such to worship him.

John 13:1 - Now before the feast of the passover, when Jesus knew that his hour was come that he should depart out of this world unto the Father, having loved his own which were in the world, he loved them unto the end.

Daniel 5:5 - In the same hour came forth fingers of a man's hand, and wrote over against the candlestick upon the plaister of the wall of the king's palace: and the king saw the part of the hand that wrote.

Revelation 18:10 - Standing afar off for the fear of her torment, saying, Alas, alas, that great city Babylon, that mighty city! for in one hour is thy judgment come.

Mark 13:11 - But when they shall lead [you], and deliver you up, take no thought beforehand what ye shall speak, neither do ye premeditate: but whatsoever shall be given you in that hour, that speak ye: for it is not ye that speak, but the Holy Ghost.

Matthew 10:19 - But when they deliver you up, take no thought how or what ye shall speak: for it shall be given you in that same hour what ye shall speak.

Revelation 11:13 - And the same hour was there a great earthquake, and the tenth part of the city fell, and in the earthquake were slain of men seven thousand: and the remnant were affrighted, and gave glory to the God of heaven.

Mark 15:34 - And at the ninth hour Jesus cried with a loud voice, saying, Eloi, Eloi, lama sabachthani? which is, being interpreted, My God, my God, why hast thou forsaken me?

Acts 23:23 - And he called unto [him] two centurions, saying, Make ready two hundred soldiers to go to Caesarea, and horsemen threescore and ten, and spearmen two hundred, at the third hour of the night;

Matthew 9:22 - But Jesus turned him about, and when he saw her, he said, Daughter, be of good comfort; thy faith hath made thee whole. And the woman was made whole from that hour.

Mark 14:37 - And he cometh, and findeth them sleeping, and saith unto Peter, Simon, sleepest thou? couldest not thou watch one hour?

Daniel 4:33 - The same hour was the thing fulfilled upon Nebuchadnezzar: and he was driven from men, and did eat grass as oxen, and his body was wet with the dew of heaven, till his hairs were grown like eagles' [feathers], and his nails like birds' [claws].

John 19:27 - Then saith he to the disciple, Behold thy mother! And from that hour that disciple took her unto his own [home].

John 17:1 - These words spake Jesus, and lifted up his eyes to heaven, and said, Father, the hour is come; glorify thy Son, that thy Son also may glorify thee:

Revelation 17:12 - And the ten horns which thou sawest are ten kings, which have received no kingdom as yet; but receive power as kings one hour with the beast.

Matthew 20:6 - And about the eleventh hour he went out, and found others standing idle, and saith unto them, Why stand ye here all the day idle?

Luke 12:39 - And this know, that if the goodman of the house had known what hour the thief would come, he would have watched, and not have suffered his house to be broken through.

Revelation 14:7 - Saying with a loud voice, Fear God, and give glory to him; for the hour of his judgment is come: and worship him that made heaven, and earth, and the sea, and the fountains of waters.

Matthew 15:28 - Then Jesus answered and said unto her, O woman, great [is] thy faith: be it unto thee even as thou wilt. And her daughter was made whole from that very hour.

Matthew 26:45 - Then cometh he to his disciples, and saith unto them, Sleep on now, and take [your] rest: behold, the hour is at hand, and the Son of man is betrayed into the hands of sinners.

Matthew 26:55 - In that same hour said Jesus to the multitudes, Are ye come out as against a thief with swords and staves for to take me? I sat daily with you teaching in the temple, and ye laid no hold on me.

Luke 20:19 - And the chief priests and the scribes the same hour sought to lay hands on him; and they feared the people: for they perceived that he had spoken this parable against them.