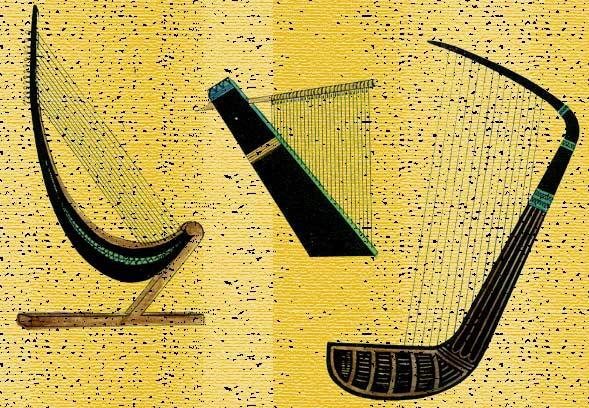 Examples of Styles of Harps from the Ancient World

In ancient times the harp was played with the hand while walking. It had multiple strings and sometimes a sounding board. Some contained rare woods, gold, silver and precious gems.
"And Saul's servants said unto him, Behold now, an evil spirit from God troubleth thee. Let our lord now command thy servants, which are before thee, to seek out a man, who is a cunning player on an harp: and it shall come to pass, when the evil spirit from God is upon thee, that he shall play with his hand, and thou shalt be well."
1 Samuel 16:15-16
"And David and all the house of Israel played before the LORD on all manner of instruments made of fir wood, even on harps, and on psalteries, and on timbrels, and on cornets, and on cymbals."
2 Samuel 6:5
"After that thou shalt come to the hill of God, where is the garrison of the Philistines: and it shall come to pass, when thou art come thither to the city, that thou shalt meet a company of prophets coming down from the high place with a psaltery, and a tabret, and a pipe, and a harp, before them; and they shall prophesy: And the Spirit of the LORD will come upon thee, and thou shalt prophesy with them, and shalt be turned into another man.
1 Samuel 10:5-6

The Bible mentions a lot regarding "Stringed" Instruments
Habakkuk 3:19 - The LORD God [is] my strength, and he will make my feet like hinds' [feet], and he will make me to walk upon mine high places. To the chief singer on my stringed instruments.

Psalms 150:4 - Praise him with the timbrel and dance: praise him with stringed instruments and organs.

Isaiah 38:20 - The LORD [was ready] to save me: therefore we will sing my songs to the stringed instruments all the days of our life in the house of the LORD.