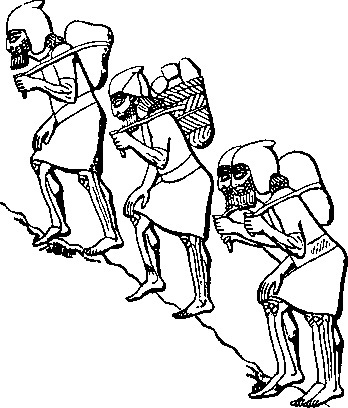 This sketch is taken from a marble relief found in the palace of Sennacherib. It illustrates how the Israelite prisoners were assembled into gangs and forced to perform heavy labor. They are clothed in short skirted garments and are carrying heavy loads of rocks.
"So they left all the commandments of the LORD their God, made for themselves a molded image and two calves, made a wooden image and worshiped all the host of heaven, and served Baal. And they caused their sons and daughters to pass through the fire, practiced witchcraft and soothsaying, and sold themselves to do evil in the sight of the LORD, to provoke Him to anger.

Therefore the LORD was very angry with Israel, and removed them from His sight; there was none left but the tribe of Judah alone. . And the LORD rejected all the descendants of Israel, afflicted them, and delivered them into the hand of plunderers, until He had cast them from His sight. For He tore Israel from the house of David, and they made Jeroboam the son of Nebat king. Then Jeroboam drove Israel from following the LORD, and made them commit a great sin. For the children of Israel walked in all the sins of Jeroboam which he did; they did not depart from them, until the LORD removed Israel out of His sight, as He had said by all His servants the prophets. So Israel was carried away from their own land to Assyria, as it is to this day."
2 Kings 7:20-23