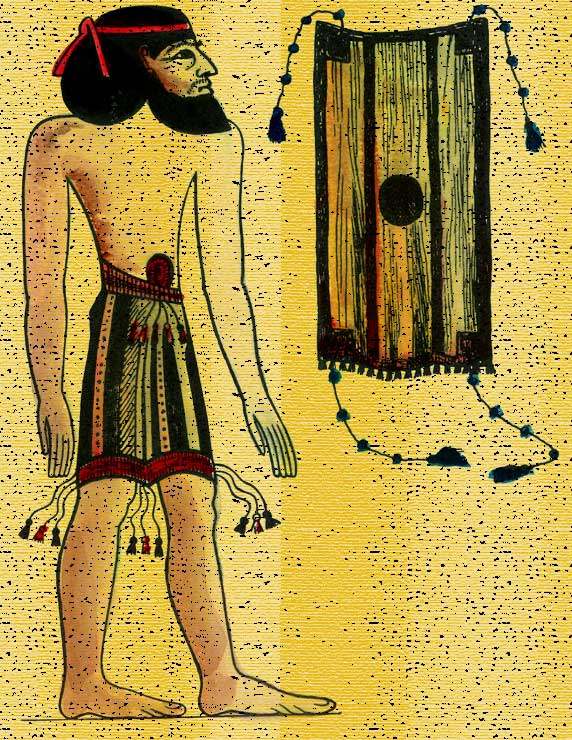 In ancient times the Law of Moses required fringes on the borders of their garments. Every Jewish man wore a prayer shawl (Tallith) and each of the 4 corners had the tassels or fringes. The above image on the left is of a Jewish prisoner being taken captive. Notice the fringes.

"And the LORD spake unto Moses, saying, Speak unto the children of Israel, and bid them that they make them fringes in the borders of their garments throughout their generations, and that they put upon the fringe of the borders a ribband of blue: And it shall be unto you for a fringe, that ye may look upon it, and remember all the commandments of the LORD, and do them; and that ye seek not after your own heart and your own eyes, after which ye use to go a whoring: That ye may remember, and do all my commandments, and be holy unto your God."
Numbers 15:37-39

"Thou shalt make thee fringes upon the four quarters of thy vesture, wherewith thou coverest thyself."
Deuteronomy 22:12

"And a woman having an issue of blood twelve years, which had spent all her living upon physicians, neither could be healed of any, Came behind him, and touched the border of his garment: and immediately her issue of blood stanched. And Jesus said, Who touched me? When all denied, Peter and they that were with him said, Master, the multitude throng thee and press thee, and sayest thou, Who touched me? And Jesus said, Somebody hath touched me: for I perceive that virtue is gone out of me. And when the woman saw that she was not hid, she came trembling, and falling down before him, she declared unto him before all the people for what cause she had touched him, and how she was healed immediately. And he said unto her, Daughter, be of good comfort: thy faith hath made thee whole; go in peace."
Luke 8:43-48