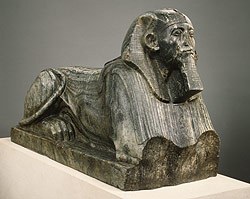 Sphinx of Senwosret III, ca. 1878–1841 B.C.E.; Dynasty 12, reign of Senwosret III; Middle Kingdom
Egyptian
Gneiss; L. 28 3/4 in. (73 cm)
Gift of Edward S. Harkness, 1917 (17.9.2)
Description

"Because of their strength, ferocity, imposing mane, and awesome roar, lions were associated with kingship since prehistoric times. As divine guardians against evil, they also symbolized in cosmic myths the place on the horizon where the sun was reborn every day. With the body of a lion and the head of a human, the sphinx symbolically combined the power of the lion with the image of the reigning king. In this magnificent example, the face belongs to Senwosret III of Dynasty 12. He wears a pleated linen headcloth, called a nemes headdress, which is symbolic of kingship. The nemes is surmounted by a cobra, which represents the goddess Udjo, one of the protectors of the king. The cobra's hood and head were either carved separately or they were repaired in antiquity, for there is an ancient dowel hole drilled into the neck.
While the Egyptians viewed the standing sphinx as a conqueror, the crouching sphinx was a guardian of sacred places. Thus pairs of sphinxes flanked avenues or entrances to important buildings. This sphinx was carved from a single block of beautifully grained anorthosite gneiss from quarries in Nubia. The sculptor has used the pattern in the stone to great effect on the body of the lion and has masked the rather awkward transition from animal body to human head with the headdress and the stylized pattern representing the lion's mane." - MET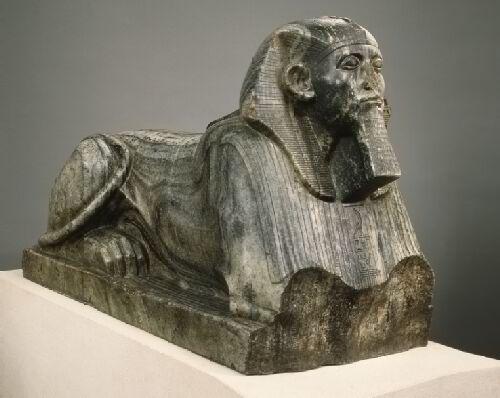 Copyright © 2001 The Metropolitan Museum of Art - MET
Return to Bible History Online
Bibliography on Ancient Art
The Art of Ancient Egypt, Revised by Robins, 272 Pages, Pub. 2008