2 Chronicles 36:22 - Now in the first year of Cyrus king of Persia, that the word of the LORD spoken by the mouth of Jeremiah might be accomplished, the LORD stirred up the spirit of Cyrus king of Persia, that he made a proclamation throughout all his kingdom, and put it also in writing.
The prophets of ancient Israel spoke about the events mentioned in the Old Testament long before they actually happened. Israel was confronted with the choice of blessings or curses. Blessings if they followed the LORD and curses if they forsook him. Moses their great leader warned the people of Israel not to disobey the LORD or else:
Deuteronomy 28:49-50 - "The LORD will bring a nation against you from far, from the end of the earth, as the eagle flies; a nation whose language you will not understand; a nation of fierce facial expressions, that doesn't respect the elderly, nor show favor to the young."
Jesus confirmed all of the events mentioned in the Old Testament (Luke 11:49-51).
Below is a list of the kings and prophets of Israel and Judah and also the kings of the surrounding nations, Assyria, Babylon, and Persia.
Ancient World Timeline
List of the Kings of Israel and Judah, Prophets, and Nations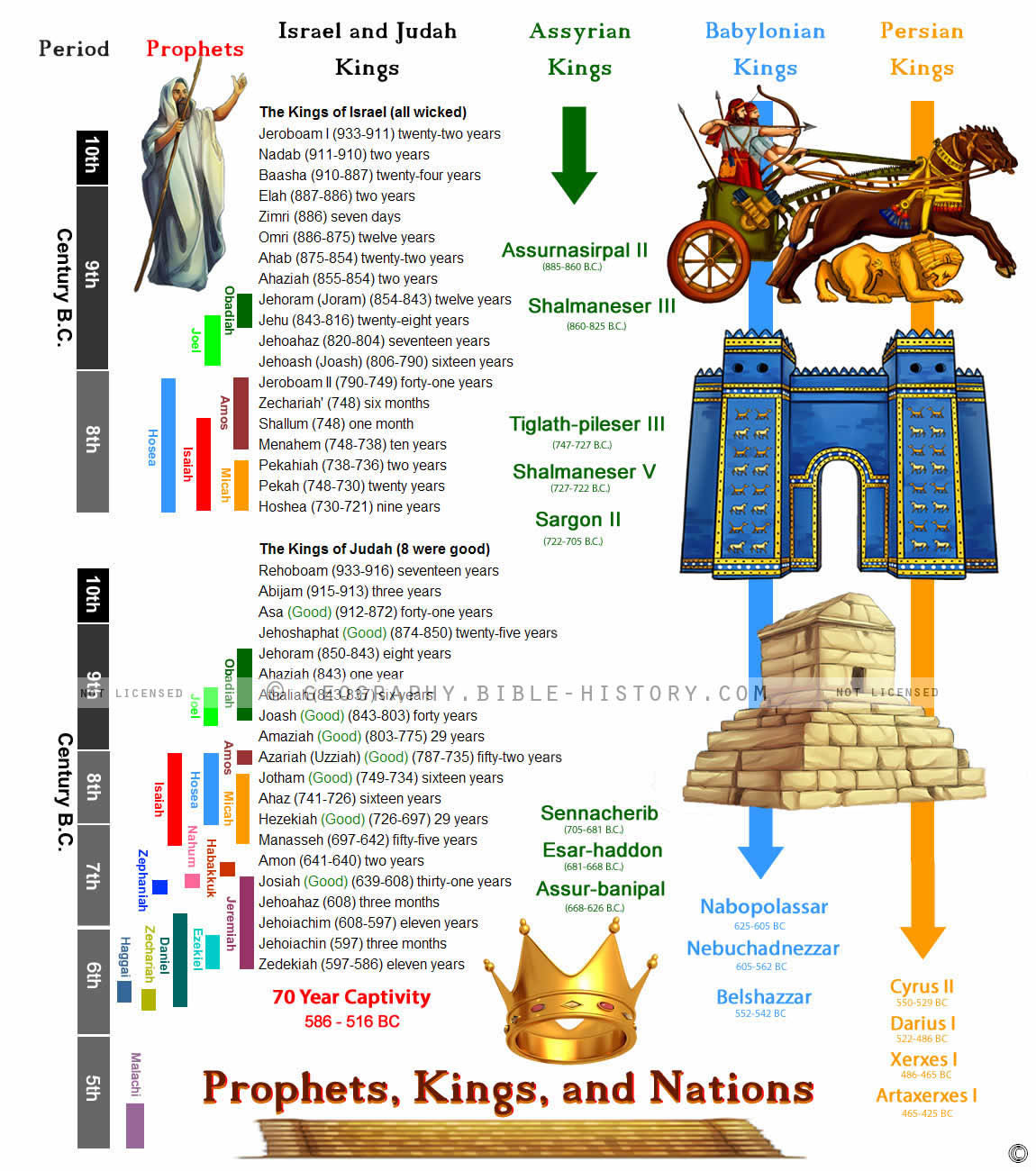 Deuteronomy 28:62-64 - You will be left few in number, even though you were as the stars of the sky for multitude; because you didn't listen to the LORD your God's voice. It will happen that as the LORD rejoiced over you to do you good, and to multiply you, so the LORD will rejoice over you to cause you to perish, and to destroy you. You will be plucked from off of the land where you go in to possess it. The LORD will scatter you among all peoples, from one end of the earth to the other end of the earth. There you will serve other gods, which you have not known, you nor your fathers, even wood and stone.