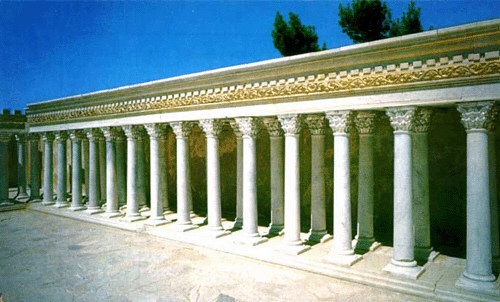 Photo of the Royal Porticoes in the Second Temple Model of Jerusalem

The Outer Court was surrounded by covered colonnade porches. 162 columns in length which were used for teaching.
SOLOMON'S PORCH
John 10:23. A portion of the temple which according to Josephus (B. J. 5:5, section 1; Ant. 20:9, section 7) remained from Solomon's time. It rose from a great depth, occupying part of the valley, and supported by a wall 400 cubits high, formed of immense stones, some 20 cubits long. The Chaldaeans spared it, perhaps for its strength and beauty. Our Lord walked in its shelter in winter.
PORCH, PORTICO; SOLOMON'S
(por'-ti-ko), (he stoa he kaloumene Solomontos): This important element of Herod's temple, preserving in its name a traditional connection with Solomon, is thrice referred to in the New Testament, namely, in John 10:23; Acts 3:11, "the porch that is called Solomon's"; and Acts 5:12. In these passages the Greek word stoa is translated "porch" but in the Revised Version margin of Acts 3:11 more correctly "portico". In architecture a "porch" is strictly an exterior structure forming a covered approach to the entrance of a building; a "portico" is an ambulatory, consisting of a roof supported by columns placed at regular intervals-a roofed colonnade. The portico bearing Solomon's name was that running along the eastern wall in the Court of the Gentiles of Herod's temple. It had double columns, while that on the South known as the Royal Portico had four rows (compare Josephus, Ant, XV, xi, 3; BJ, V, v, and see TEMPLE, HEROD'S). The portico was the scene of Christ's teaching at the Feast of the Dedication (John 10:23), and was flocked to by the multitude after the healing of the lame man (Acts 3:11). There the apostles preached and wrought other miracles (Acts 5:12).
COURT OF THE GENTILES
Jesus preached in the Court of the Gentiles which Herod's builders had doubled in size and surrounded with an elaborate Hellenistic portico. This model at the Holy Land Hotel is a Scholar's conception showing how the site may have looked in Jesus' day. Josephus the Jewish historian wrote about the warning signs that were on the barrier that separated the court of the gentiles from the other courts in the Temple. Not until recent times did archaeologists actually discover one. Its seven line inscription read as follows:
NO FOREIGNER
IS TO GO BEYOND THE BALUSTRADE
AND THE PLAZA OF THE TEMPLE ZONE
WHOEVER IS CAUGHT DOING SO
WILL HAVE HIMSELF TO BLAME
FOR HIS DEATH
WHICH WILL FOLLOW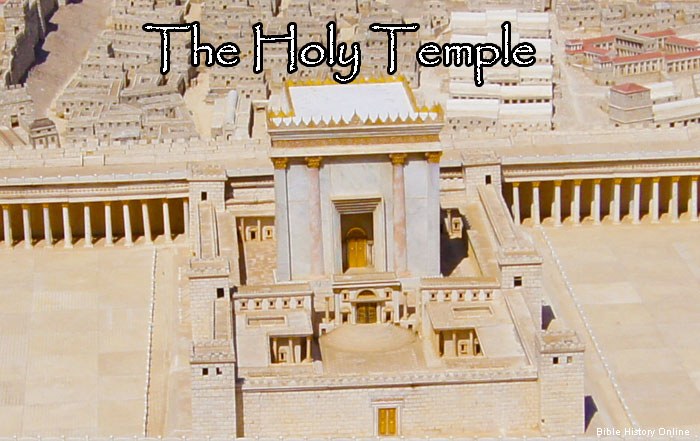 Photo of the Entrance to the Temple in the Second Temple Model of Jerusalem