The Jewish Wars began in 66 A.D. and they were a direct revolt by the Jews against Rome's authority. Titus with his Roman legions arrived at the outermost northern Wall of Jerusalem, the Passover of 70 A.D. The Romans built embankments of earthenwork, they placed battering rams and the siege began.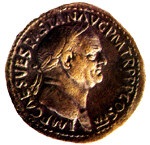 The Roman army numbered 30,000; while the Jewish army numbered 24,000. According to Tacitus they were 600,000 visitors crowding the streets of Jerusalem for the Passover. After five months the walls were battered down, the great Temple was burned down, and the city was left ruined and desolate, except for Herod's three great towers at the northwest corner of the city. These served as a memorial of the massive strength of Jerusalem's fortifications which Titus of Rome had brought to rubble.
The legions of Rome brought the captives to Caesarea and after over one million Jews were killed, 95,000 captives were taken as prisoners, and among them was Josephus, the ancient Jewish historian. According to Eusebius, the Christians saw the might of the Roman army and through prophetic warning, fled to Pella.