Jesus' Ministry in Capernaum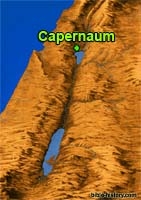 The Woman With the Alabaster Flask (Lk 7:36-50).
Mary Called Magdalene (Lk 8:1-3).
The Blasphemy of the Holy Spirit (Mat 12:22-37; Mk 3: 19-30; Lk 11:14-20).
Teacher, We Want to See a Sign From You (Mat 12:38-45; Lk 11:16-36).
Woe to You, Scribes and Pharisees, Hypocrites (Lk 11:37-54).
He Began to Say to His Disciples (Lk 12:1-59).
Parable of the Fig Tree (Lk 13:6-9).
Parable of the Sower (Mat 13:1-23; Mk 4:1-25; Lk 8:4-18).
Many Such Parables (Mat 13:24-53; Mk 4:26-34).