Jesus Ministers in Bethsaida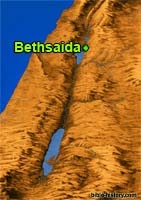 Then Great Multitudes Came to Him (Mat 15:29-31, Mk 7:31-37).
Feeding Four Thousand (Mat 15:32-39; Mk 8:1-9).
Seeking From Him a Sign From Heaven (Mat 16:1-4; Mk 8:10-12).
The Leaven of the Pharisees and Sadducees (Mat 16:4-12; Mk 8:13-21).
Bethsaida
Heals a Blind Man at Bethsaida (Mk 8:22-26).