And there came a voice from heaven, [saying], Thou art my beloved Son, in whom I am well pleased." - Mark 1:11
The New Testament - A Brief Overview
"Now in the fifteenth year of the reign of Tiberius Caesar, Pontius Pilate being governor of Judaea, and Herod being tetrarch of Galilee, and his brother Philip tetrarch of Ituraea and of the region of Trachonitis, and Lysanias the tetrarch of Abilene, Annas and Caiaphas being the high priests, the word of God came unto John the son of Zacharias in the wilderness." Luke 3:1-2
Jesus Appears at the Jordan River
According to the Bible Jesus now makes his first public appearance where John was baptizing at the Jordan River. Jesus is thirty years of age, and He comes to John and requests to be baptized. You can almost hear the calmness in John's powerful voice, "I have need to be baptized by you, and you come to me?"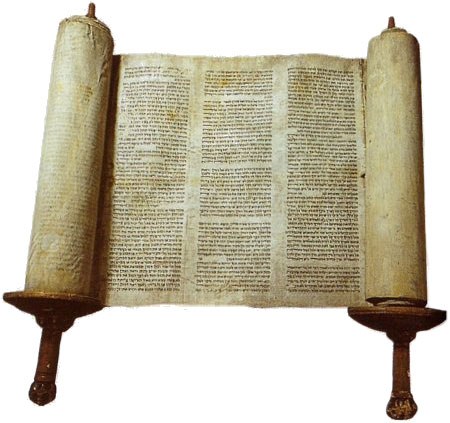 All of History Waiting for This Moment
Every great event that ever happened in the history of the world pales in comparison to this powerful moment when the God of the universe, the creator of all things, the Word of God in a human body is being anointed for His mission and about to speak to the world.
"Permit it to be so now, for thus it is fitting for us to fulfill all righteousness." Matthew 3:15
Jesus had never sinned and therefore had no need to repent, yet he saw in John's baptism the righteousness of God. It is interesting why Jesus would be so concerned with righteousness, the reason can be found in the words of Isaiah about the Messiah:
"And righteousness shall be the girdle of his loins ." - Isaiah 11:5
Jesus is Baptized
John obeyed the word of Jesus and baptized Him. Jesus went under the water and as He came up from the water the heavens were opened, and the Holy Spirit descended upon Him like a dove and lit up and rested upon Him. Suddenly a voice came out of heaven saying, "This is my beloved Son in whom I am well pleased."
Painting of a Dove Descending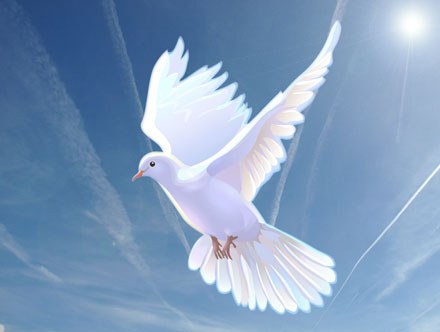 Painted Illustration of A Peaceful Dove Descending
The Heavens Opened and a Dove Descended
The Bible says that the heaven's opened and a dove descended and was lit up and rested upon Him. the beautiful imagery is very reminiscent of the words of Isaiah the prophet concerning the Messiah:
And the spirit of the LORD shall rest upon him, the spirit of wisdom and understanding, the spirit of counsel and might, the spirit of knowledge and of the fear of the LORD." - Isaiah 11:2
There is something very interesting about the dove appearing at the baptism of Jesus, the Holy Spirit descending upon Jesus in the form of a dove and resting on Him. The dove is a remarkable representation of the Holy Spirit. In ancient cultures dove's were known for their gentleness and affection, used often as a symbol of peace. The Holy Spirit filled Jesus with wisdom and understanding, and Jesus mission was to reach out to every person who would open their heart to Him. He knew everything about people and was able to truly love them in a way that only God could express.
The Voice of God Out of Heaven
When Jesus came up from the water, He was anointed for His mission. God spoke an amazing Word right out of heaven, "Thou art my beloved Son, in whom I am well pleased". This statement by the Father about Jesus is very powerful, it is clear that Jesus pleased His Father in every way. There is an interesting parallel in the prophecy of Isaiah which speaks of the Father loving the Messiah His Servant, in whom His "soul delights." This is also a very powerful expression of love in the Hebrew language:
Behold my servant, whom I uphold; mine elect, [in whom] my soul delighteth; I have put my spirit upon him: he shall bring forth judgment to the Gentiles." - Isaiah 42:1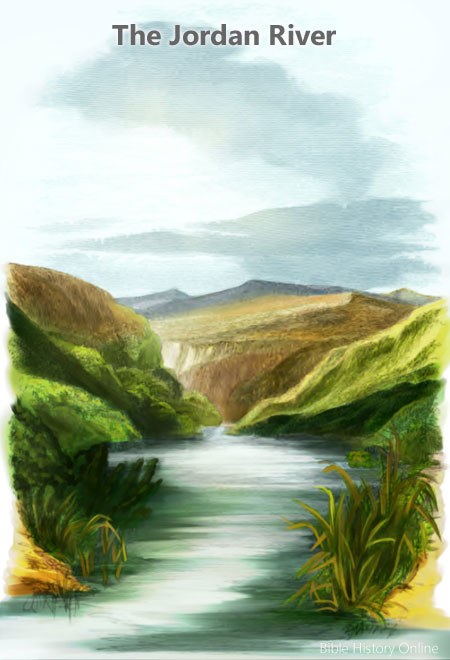 Painting of the Jordan River
"And John bare record, saying, I saw the Spirit descending from heaven like a dove, and it abode upon him. And I knew him not: but he that sent me to baptize with water, the same said unto me, Upon whom thou shalt see the Spirit descending, and remaining on him, the same is he which baptizeth with the Holy Ghost." - John 1:32-33