Map of Israel's Natural Divisions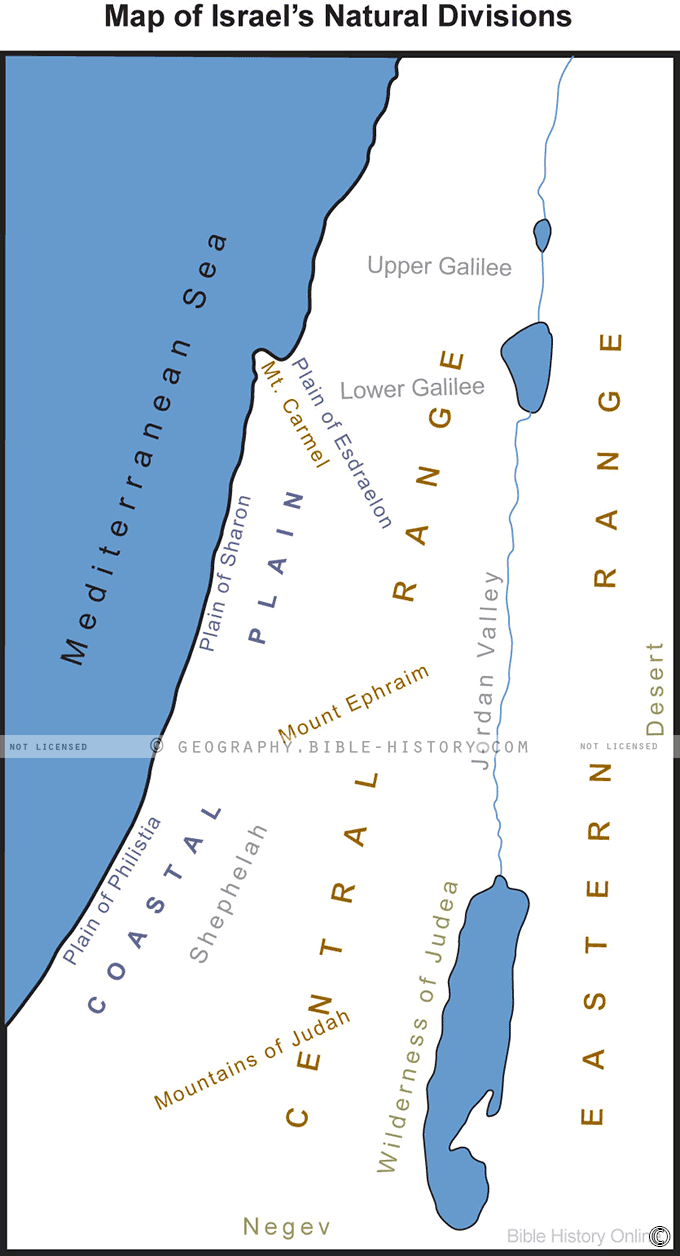 (Enlarge) (PDF for Print) (Freely Distributed)
Map of the Geography of the Land of Israel
The land of Israel can be divided into four main geographical regions: The Coastal Plain, the Hill Country, The Great Rift of the Jordan Valley, The Transjordan Highlands. First is the Coastal Plain is filled with sand dunes and fertile alluvial soil. Second is the Hill Country is like a staircase of high hills in the north and smaller hills in the south Third is the Great Rift of the Jordan Valley which is a deep land trench 1500 feet below sea level. Fourth is the Transjordan Highlands which is a high plateau range about 4,000 feet above sea level which descends east into the Syrian-Arabian Desert.
Coastal Plain: Plain of Philistia, Plain of Sharon, Plain of Dor and the Plain of Asher.
Central Range: Negev, Mountains of Judah, Mount Ephraim (Samaria), Lower and Upper Galilee
Jordan Valley: Wilderness of Judea
Eastern Range: Transjordan Highlands, and the Syrian-Arabian Desert.

The Bible Mentions a lot Concerning the "Mountains" of Israel
Isaiah 52:7 - How beautiful upon the mountains are the feet of him that bringeth good tidings, that publisheth peace; that bringeth good tidings of good, that publisheth salvation; that saith unto Zion, Thy God reigneth!
1 Kings 19:11 - And he said, Go forth, and stand upon the mount before the LORD. And, behold, the LORD passed by, and a great and strong wind rent the mountains, and brake in pieces the rocks before the LORD; [but] the LORD [was] not in the wind: and after the wind an earthquake; [but] the LORD [was] not in the earthquake:

Isaiah 18:6 - They shall be left together unto the fowls of the mountains, and to the beasts of the earth: and the fowls shall summer upon them, and all the beasts of the earth shall winter upon them.

Joshua 18:12 - And their border on the north side was from Jordan; and the border went up to the side of Jericho on the north side, and went up through the mountains westward; and the goings out thereof were at the wilderness of Bethaven.

2 Kings 19:23 - By thy messengers thou hast reproached the Lord, and hast said, With the multitude of my chariots I am come up to the height of the mountains, to the sides of Lebanon, and will cut down the tall cedar trees thereof, [and] the choice fir trees thereof: and I will enter into the lodgings of his borders, [and into] the forest of his Carmel.

Isaiah 37:24 - By thy servants hast thou reproached the Lord, and hast said, By the multitude of my chariots am I come up to the height of the mountains, to the sides of Lebanon; and I will cut down the tall cedars thereof, [and] the choice fir trees thereof: and I will enter into the height of his border, [and] the forest of his Carmel.

Genesis 8:5 - And the waters decreased continually until the tenth month: in the tenth [month], on the first [day] of the month, were the tops of the mountains seen.

Jeremiah 17:26 - And they shall come from the cities of Judah, and from the places about Jerusalem, and from the land of Benjamin, and from the plain, and from the mountains, and from the south, bringing burnt offerings, and sacrifices, and meat offerings, and incense, and bringing sacrifices of praise, unto the house of the LORD.

Ezekiel 38:8 - After many days thou shalt be visited: in the latter years thou shalt come into the land [that is] brought back from the sword, [and is] gathered out of many people, against the mountains of Israel, which have been always waste: but it is brought forth out of the nations, and they shall dwell safely all of them.

Isaiah 54:10 - For the mountains shall depart, and the hills be removed; but my kindness shall not depart from thee, neither shall the covenant of my peace be removed, saith the LORD that hath mercy on thee.

Amos 3:9 - Publish in the palaces at Ashdod, and in the palaces in the land of Egypt, and say, Assemble yourselves upon the mountains of Samaria, and behold the great tumults in the midst thereof, and the oppressed in the midst thereof.

Jeremiah 32:44 - Men shall buy fields for money, and subscribe evidences, and seal [them], and take witnesses in the land of Benjamin, and in the places about Jerusalem, and in the cities of Judah, and in the cities of the mountains, and in the cities of the valley, and in the cities of the south: for I will cause their captivity to return, saith the LORD.

Ezekiel 38:20 - So that the fishes of the sea, and the fowls of the heaven, and the beasts of the field, and all creeping things that creep upon the earth, and all the men that [are] upon the face of the earth, shall shake at my presence, and the mountains shall be thrown down, and the steep places shall fall, and every wall shall fall to the ground.

Isaiah 64:1 - Oh that thou wouldest rend the heavens, that thou wouldest come down, that the mountains might flow down at thy presence,

Isaiah 44:23 - Sing, O ye heavens; for the LORD hath done [it]: shout, ye lower parts of the earth: break forth into singing, ye mountains, O forest, and every tree therein: for the LORD hath redeemed Jacob, and glorified himself in Israel.

Psalms 90:2 - Before the mountains were brought forth, or ever thou hadst formed the earth and the world, even from everlasting to everlasting, thou [art] God.

Isaiah 41:15 - Behold, I will make thee a new sharp threshing instrument having teeth: thou shalt thresh the mountains, and beat [them] small, and shalt make the hills as chaff.

Jeremiah 33:13 - In the cities of the mountains, in the cities of the vale, and in the cities of the south, and in the land of Benjamin, and in the places about Jerusalem, and in the cities of Judah, shall the flocks pass again under the hands of him that telleth [them], saith the LORD.

Ezekiel 39:4 - Thou shalt fall upon the mountains of Israel, thou, and all thy bands, and the people that [is] with thee: I will give thee unto the ravenous birds of every sort, and [to] the beasts of the field to be devoured.

Ezekiel 39:17 - And, thou son of man, thus saith the Lord GOD; Speak unto every feathered fowl, and to every beast of the field, Assemble yourselves, and come; gather yourselves on every side to my sacrifice that I do sacrifice for you, [even] a great sacrifice upon the mountains of Israel, that ye may eat flesh, and drink blood.

Ezekiel 18:6 - [And] hath not eaten upon the mountains, neither hath lifted up his eyes to the idols of the house of Israel, neither hath defiled his neighbour's wife, neither hath come near to a menstruous woman,

Ezekiel 39:2 - And I will turn thee back, and leave but the sixth part of thee, and will cause thee to come up from the north parts, and will bring thee upon the mountains of Israel:

Hosea 4:13 - They sacrifice upon the tops of the mountains, and burn incense upon the hills, under oaks and poplars and elms, because the shadow thereof [is] good: therefore your daughters shall commit whoredom, and your spouses shall commit adultery.

Numbers 13:29 - The Amalekites dwell in the land of the south: and the Hittites, and the Jebusites, and the Amorites, dwell in the mountains: and the Canaanites dwell by the sea, and by the coast of Jordan.

Ezekiel 18:15 - [That] hath not eaten upon the mountains, neither hath lifted up his eyes to the idols of the house of Israel, hath not defiled his neighbour's wife,

Ezekiel 22:9 - In thee are men that carry tales to shed blood: and in thee they eat upon the mountains: in the midst of thee they commit lewdness.

Ezekiel 6:13 - Then shall ye know that I [am] the LORD, when their slain [men] shall be among their idols round about their altars, upon every high hill, in all the tops of the mountains, and under every green tree, and under every thick oak, the place where they did offer sweet savour to all their idols.

Joel 3:18 - And it shall come to pass in that day, [that] the mountains shall drop down new wine, and the hills shall flow with milk, and all the rivers of Judah shall flow with waters, and a fountain shall come forth of the house of the LORD, and shall water the valley of Shittim.

Ezekiel 31:12 - And strangers, the terrible of the nations, have cut him off, and have left him: upon the mountains and in all the valleys his branches are fallen, and his boughs are broken by all the rivers of the land; and all the people of the earth are gone down from his shadow, and have left him.

1 Chronicles 12:8 - And of the Gadites there separated themselves unto David into the hold to the wilderness men of might, [and] men of war [fit] for the battle, that could handle shield and buckler, whose faces [were like] the faces of lions, and [were] as swift as the roes upon the mountains;