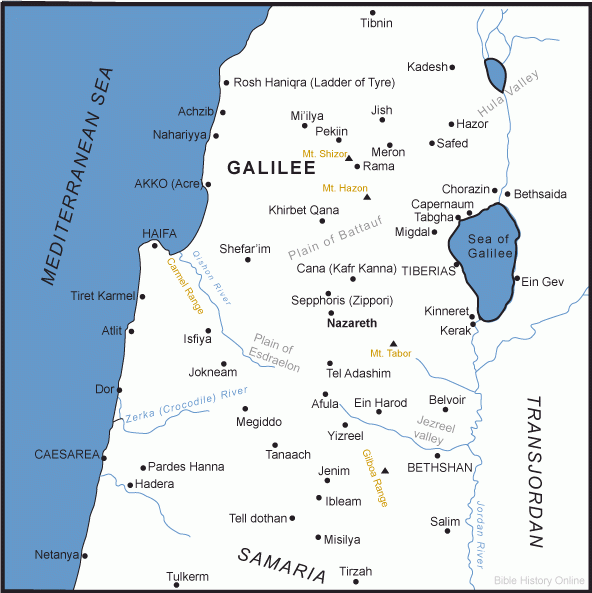 (Enlarge) (PDF for Print) (Freely Distributed)
Map of the Lower Galilee Region in Ancient Israel
This map includes some of the geographical locations within the ancient Galilee region in Israel. Lower Galilee contained many hills about 2000 feet above sea level, not as large as the northern Galilee region. It comes down sort of like a staircase of large to smaller hills. The valley formed an easy path to the Sea of Galilee, especially to the north side of the Sea where Capernaum was located.

The Bible Mentions a lot Concerning "Galilee"
John 2:11 - This beginning of miracles did Jesus in Cana of Galilee, and manifested forth his glory; and his disciples believed on him.
1 Kings 9:11 - ([Now] Hiram the king of Tyre had furnished Solomon with cedar trees and fir trees, and with gold, according to all his desire,) that then king Solomon gave Hiram twenty cities in the land of Galilee.

John 7:41 - Others said, This is the Christ. But some said, Shall Christ come out of Galilee?

2 Kings 15:29 - In the days of Pekah king of Israel came Tiglathpileser king of Assyria, and took Ijon, and Abelbethmaachah, and Janoah, and Kedesh, and Hazor, and Gilead, and Galilee, all the land of Naphtali, and carried them captive to Assyria.

Luke 3:1 - Now in the fifteenth year of the reign of Tiberius Caesar, Pontius Pilate being governor of Judaea, and Herod being tetrarch of Galilee, and his brother Philip tetrarch of Ituraea and of the region of Trachonitis, and Lysanias the tetrarch of Abilene,

Luke 2:4 - And Joseph also went up from Galilee, out of the city of Nazareth, into Judaea, unto the city of David, which is called Bethlehem; (because he was of the house and lineage of David:)

Acts 1:11 - Which also said, Ye men of Galilee, why stand ye gazing up into heaven? this same Jesus, which is taken up from you into heaven, shall so come in like manner as ye have seen him go into heaven.

1 Chronicles 6:76 - And out of the tribe of Naphtali; Kedesh in Galilee with her suburbs, and Hammon with her suburbs, and Kirjathaim with her suburbs.

Joshua 21:32 - And out of the tribe of Naphtali, Kedesh in Galilee with her suburbs, [to be] a city of refuge for the slayer; and Hammothdor with her suburbs, and Kartan with her suburbs; three cities.

Isaiah 9:1 - Nevertheless the dimness [shall] not [be] such as [was] in her vexation, when at the first he lightly afflicted the land of Zebulun and the land of Naphtali, and afterward did more grievously afflict [her by] the way of the sea, beyond Jordan, in Galilee of the nations.

Matthew 4:23 - And Jesus went about all Galilee, teaching in their synagogues, and preaching the gospel of the kingdom, and healing all manner of sickness and all manner of disease among the people.

Joshua 20:7 - And they appointed Kedesh in Galilee in mount Naphtali, and Shechem in mount Ephraim, and Kirjatharba, which [is] Hebron, in the mountain of Judah.

Matthew 4:15 - The land of Zabulon, and the land of Nephthalim, [by] the way of the sea, beyond Jordan, Galilee of the Gentiles;

John 4:45 - Then when he was come into Galilee, the Galilaeans received him, having seen all the things that he did at Jerusalem at the feast: for they also went unto the feast.

Mark 7:31 - And again, departing from the coasts of Tyre and Sidon, he came unto the sea of Galilee, through the midst of the coasts of Decapolis.

Matthew 2:22 - But when he heard that Archelaus did reign in Judaea in the room of his father Herod, he was afraid to go thither: notwithstanding, being warned of God in a dream, he turned aside into the parts of Galilee:

Luke 5:17 - And it came to pass on a certain day, as he was teaching, that there were Pharisees and doctors of the law sitting by, which were come out of every town of Galilee, and Judaea, and Jerusalem: and the power of the Lord was [present] to heal them.

Acts 9:31 - Then had the churches rest throughout all Judaea and Galilee and Samaria, and were edified; and walking in the fear of the Lord, and in the comfort of the Holy Ghost, were multiplied.

Matthew 4:18 - And Jesus, walking by the sea of Galilee, saw two brethren, Simon called Peter, and Andrew his brother, casting a net into the sea: for they were fishers.

Mark 6:21 - And when a convenient day was come, that Herod on his birthday made a supper to his lords, high captains, and chief [estates] of Galilee;

John 21:2 - There were together Simon Peter, and Thomas called Didymus, and Nathanael of Cana in Galilee, and the [sons] of Zebedee, and two other of his disciples.

Acts 5:37 - After this man rose up Judas of Galilee in the days of the taxing, and drew away much people after him: he also perished; and all, [even] as many as obeyed him, were dispersed.

Matthew 19:1 - And it came to pass, [that] when Jesus had finished these sayings, he departed from Galilee, and came into the coasts of Judaea beyond Jordan;

John 4:46 - So Jesus came again into Cana of Galilee, where he made the water wine. And there was a certain nobleman, whose son was sick at Capernaum.

John 7:1 - After these things Jesus walked in Galilee: for he would not walk in Jewry, because the Jews sought to kill him.

Matthew 4:25 - And there followed him great multitudes of people from Galilee, and [from] Decapolis, and [from] Jerusalem, and [from] Judaea, and [from] beyond Jordan.

Matthew 28:7 - And go quickly, and tell his disciples that he is risen from the dead; and, behold, he goeth before you into Galilee; there shall ye see him: lo, I have told you.

Mark 1:9 - And it came to pass in those days, that Jesus came from Nazareth of Galilee, and was baptized of John in Jordan.

Luke 1:26 - And in the sixth month the angel Gabriel was sent from God unto a city of Galilee, named Nazareth,

Luke 4:14 - And Jesus returned in the power of the Spirit into Galilee: and there went out a fame of him through all the region round about.