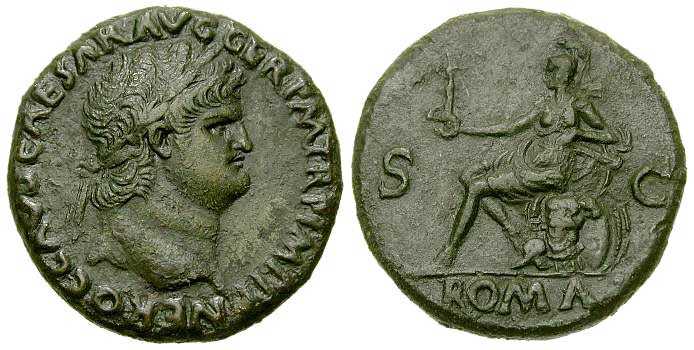 This coin is a sestertius, and was minted in 64-66 A.D. It's weight is 26.40 g.
On the front is a Laureate bust of Nero. The words around it and their meaning:
NERO CLAVD(IVS) CAESAR AVG(VSTVS) GERM(ANICVS) P(ONTIFEX) M(AXIMVS) TR(IBVNICIA) P(OTESTATE) IMP(ERATOR) P(ATER) P(ATRIAE):
Nero Claudius Caesar Augustus Germanicus, pontifex maximus, with tribunician power, imperator, father of the country.
Note: Nero reintroduced the bronze sestertius, which Claudius had suspended. These large coins supplied Nero's die-engravers with opportunities to develop excellent portraits with words to remind people of the emperor's good qualities and the services he provided to the people of Rome.