Badger skins (Outward appearance-unattractive)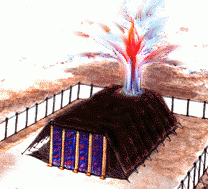 Badger skins were the final covering, the outer covering that everyone saw. They were tough and course and very plain in their appearance. But how does this speak of Christ? It speaks of what Christ was to man. There was no outward beauty to the tabernacle proper, so it was with Christ when He came to earth when He pitched His tabernacle among men. As the prophet foretold: Is 53:1-2 "Who has believed our report? And to whom has the arm of the LORD been revealed? For He shall grow up before Him as a tender plant, and as a root out of dry ground. He has no form or comeliness; and when we see Him, there is no beauty that we should desire Him." What was Jesus to the Jews? nothing but a course, hard badger skin. What is Jesus to the world today? nothing but a course, hard badger skin. But to those of us who have opened up our hearts to Him He is much much more. He is the "altogether lovely One", He is the "Rose of Sharon", the "Lily of the Valley", and the "Fairest among 10,000" to our souls. If anyone desired to look beyond the outer flesh covering they would see the transfiguration of Christ's glory. "Can any good thing come out of Nazareth?" Jesus says, "Come and see".
Jn 1:10-14 He was in the world, and the world was made through Him, and the world did not know Him. He came to His own, and His own did not receive Him. But as many as received Him, to them He gave the right to become children of God, to those who believe in His name: who were born, not of blood, nor of the will of the flesh, nor of the will of man, but of God. And the Word became flesh and dwelt among us, and we beheld His glory, the glory as of the only begotten of the Father, full of grace and truth.