Matthew 1 Images and Notes
Brief Summary: Matthew chapter one traces the genealogy or lineage of Jesus through Joseph and Mary back to Abraham. Matthew chapter one also talks about the birth of Jesus, and the struggle of Joseph about Mary's pregnancy and the angel appearing to him in a dream encouraging him to not be afraid to marry Mary. Matthew attributes all this to the fulfillment of Scripture in Isaiah.
Detailed Summary: Matthew chapter one reveals a detailed genealogy of Jesus tracing his ancestry from Abraham the first Hebrew down through Joseph, his legal father. He begins by calling Jesus the Son of David, who was the greatest king of Israel, making this a royal descent and proving Jesus to be the king of the Jews. Matthew goes on and records His virgin birth having been conceived by the Holy Spirit. He had no human father by blood but He was the Son of God by blood descent. Joseph was considering what he should do regarding her pregnancy and an angel appeared to him in a dream calling him son of David, and encouraging him that all that happened was true and to be strong and marry her. He was to name his son Jesus, for He shall save his people from their sins. Matthew is quick to mention that the virgin birth of Christ was in direct fulfillment of the Word of the prophet Isaiah in Isaiah 7:14. Joseph did as was commanded him and knew her not until after she gave birth to her firstborn Son and called His name Jesus.
Key Concept: Jesus was the virgin born king by royal descent and Son of God with no human father by blood (Matthew 1:18)
Key Verses:


Matthew 1:1 The book of the generation of Jesus Christ, the son of David, the son of Abraham.


Matthew 1:18 Now the birth of Jesus Christ was on this wise: When as his mother Mary was espoused to Joseph, before they came together, she was found with child of the Holy Ghost.


Matthew 1:20-21 for that which is conceived in her is of the Holy Ghost. And she shall bring forth a son, and thou shalt call his name JESUS: for he shall save his people from their sins.
Important Related Verses:


2 Samuel 7:11-13 Also the LORD telleth David that he will make thee an house. And when thy days be fulfilled, and thou shalt sleep with thy fathers, I will set up thy seed after thee, which shall proceed out of thy bowels, and I will establish his kingdom. He shall build an house for my name, and I will establish the throne of his kingdom for ever.


Isaiah 7:14 Therefore the Lord himself shall give you a sign; Behold, a virgin shall conceive, and bear a son, and shall call his name Immanuel.


Isaiah 9:6-7 For unto us a child is born, unto us a son is given: and the government shall be upon his shoulder: and his name shall be called Wonderful, Counselor, The mighty God, The everlasting Father, The Prince of Peace. Of the increase of [his] government and peace [there shall be] no end, upon the throne of David, and upon his kingdom, to order it, and to establish it with judgment and with justice from henceforth even for ever. The zeal of the LORD of hosts will perform this.
Interesting Notes:


Matthew mentions four women in his genealogy: Tamar, Rahab, Ruth, Bathsheeba who were all associated with some sort of immorality. Tamar (incest), Rahab (harlotry), Ruth (a descendant of Moab who committed incest) and Bathsheba (adultery). Christ's greatness was in Himself not his geneaology.


Women were never mentioned in Jewish genealogies.


Matthew begins the genealogy by calling Jesus the Son of David making it a royal genealogy because Jesus is the King and rightful heir to David's throne. This could not have happened through Mary's genealogy alone.


Matthew's genealogy proves Jesus was the Son of Abraham. God promised that Abraham's "seed" would bless the whole world.


All the Jewish genealogical records were lost in the first century with the destruction of the Temple. No Jew today could rightfully claim to be a descended of king David.


There is no example of history that records such a historical genealogy. There is no logical explanation except that God prepared the Jewish people, and their scrupulous keeping of genealogical records, to preserve an accurate account which His Son would make an entrance into this world.


Matthew divides the Old Testament from Abraham to Jesus as three 14 generation periods. Numerically the number of David (dvd) in Hebrew is 14.


Jesus had no human father by blood making him the last Adam, the Son of God.


Matthew records that Joseph did not have intercourse with Mary until after she gave birth to Jesus. This could indicate that Joseph and Mary had other children.


One scholar said, "Jesus had a sinless human nature joined to deity."


The name Jesus means Yahweh is Salvation.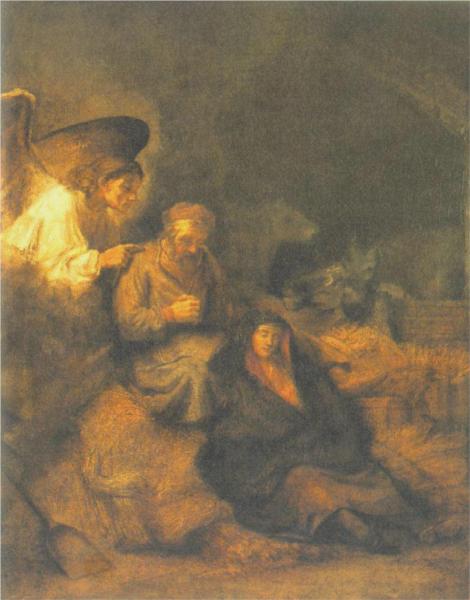 The Dream of St. Joseph by Rembrandt


The Name Jesus In Ancient Hebrew Text
"Yeshua" in First Century Hebrew Text. This is how the name "Jesus" would have been written in ancient Hebrew documents. The four letters or consonants from right to left are Yod, Shin, Vav, Ayin (Y, SH, OO, A). Jesus is the Greek name for the Hebrew name Joshua or Y'shua which means "The LORD or Yahweh is Salvation".
Next the Visit from the Magi