Philemon Images and Notes
The Book of Philemon
Philemon 1:4-5 - I thank my God, making mention of thee always in my prayers, Hearing of thy love and faith, which thou hast toward the Lord Jesus, and toward all saints;
Philemon 1:9-10 - Yet for love's sake I rather beseech [thee], being such an one as Paul the aged, and now also a prisoner of Jesus Christ. I beseech thee for my son Onesimus, whom I have begotten in my bonds:
Philemon in The New Testament - A Brief Overview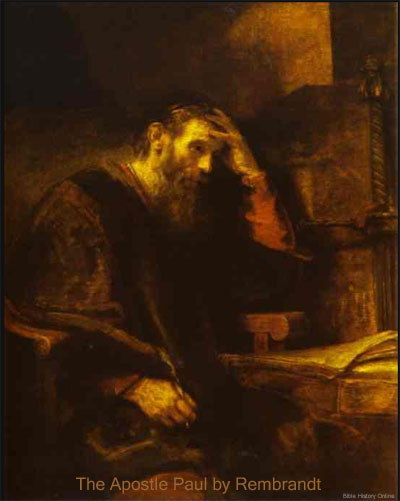 Painting of Paul the Apostle by Rembrandt - 1657
Introduction to The Book of Philemon
Brief Summary. The Apostle Paul was in Rome preaching in "his own hired house." Onesimus was a runaway slave from Colossae in Asia Minor, and he met Paul who led him to Jesus Christ. There is a chance he could have known Paul previously for his master Philemon was a disciple of Christ. the crime of a slave running away from his master was punishable by death. The epistle to Philemon is a plea from the apostle Paul to receive his slave as a brother, as Christ had received Philemon.
Summary of The Book of Philemon
Epistle. The book of Philemon is considered by most scholars to be a companion letter to his epistle to the Colossians. This is because of the information in the book concerning Onesimus who had comforted Paul while he was in prison ( Philemon 1:11). Onesimus is mentioned in the book of Colossians as "one of you." He was being sent with both letters, along with Tychichus.
Author. Philemon and Colossians were both written by Paul the apostle.
Date. The book of Philemon as well as the book of Colossians were written by Paul and delivered at the same time. Since Colossians was written from Rome during Paul's first imprisonment 62 AD., the same must be believed about Philemon.
Philemon. The epistle was intended for Philemon, who may have been an elder in the church at Colossae. There is no doubt that he was a leader in the church, the church met at his home ( Philemon 1:2). Paul was familiar not only with Philemon but Apphia and Archippus who were members of his family, and he send greetings to them. Philemon appears to be a kind man, hospitable, and possibly wealthy. He seems to of been a good friend of the apostle Paul, he was with Paul as a worker, and did much for the church in Paul's absence.
Onesimus. Onesimus had been a slave of Philemon who had escaped, probably with some money. (Philemon1:18). He showed up in Rome to find refuge and came in contact with the apostle Paul who led him to Christ. Once Onesimus became a Christian he became close to Paul and also a great source of help. Paul appreciated Onesimus but believed that he should return to his master and encouraged him to do so. When Onesimus returned Philemon had the legal right to slay his disobedient slave, for this crime was punishable by death in the Roman Empire. It is clearly seen that Paul becomes an advocate of Onesimus in this letter to Philemon.
Paul. The epistle to Philemon shows a lot about the apostle Paul, for he cared much about each circumstance that God led him into. He cared as much about the situation with Onesimus as he did with the heresies that brought so much trouble to the church at Colossae. It is interesting that Paul even wrote this letter with his own hand to show how important it was to him.
Outline of the Book of Philemon
Paul Commends Philemon - Chapter 1:1-7
Paul Intercedes for Onesimus - Chapter 1:8-21
Final Words - Chapter 1:22-25

The Name Jesus In Ancient Hebrew Text
"Yeshua" in First Century Hebrew Text. This is how the name "Jesus" would have been written in ancient Hebrew documents. The four letters or consonants from right to left are Yod, Shin, Vav, Ayin (Y, SH, OO, A). Jesus is the Greek name for the Hebrew name Joshua or Y'shua which means "The LORD or Yahweh is Salvation".
Philemon Maps and Resources
Map of the Roman Empire (14 A.D.) - This map reveals the Roman Empire during the time shortly after the birth of Jesus, in 14 AD at the time of the death of Augustus. The order which prevailed in this extensive empire, the good military roads, and the use of Koine Greek as the general language of culture throughout the area were among the factors which multiplied the rapid spread of the Gospel of Jesus Christ. (Color Map)
Map of Paul's First Missionary Journey (48 A.D.) - This map reveals the areas in Asia Minor where Paul visited in his first missionary journey. Around 48 AD, in the springtime, Paul and his companions Barnabas and Mark were sent on a mission from the church in Antioch. This would be the first of Paul's Missionary Journey's. (Color Map)
Map of Paul's Second Missionary Journey (51 A.D.) - This map reveals the areas in Asia and Greece where Paul visited in his second missionary journey. Paul re-visits a couple cities in Asia, one of which was Lystra where he was stoned and left for dead a few years earlier. He later has a vision that leads him over to Greece and Paul and his companions travel and minister in various cities in Greece (Philippi, Thessalonica, Berea, Athens and Corinth. Later Paul returns to Ephesus and finally to Caesarea and Antioch. (Color Map)
Map of Paul's Third Missionary Journey (54 A.D.) - This map reveals the areas in Asia and Greece where Paul visited in his third missionary journey. On Paul's third missionary journey he returned to the cities he had first visited on his first missionary journey. During this time he decided to remain in Ephesus for about 3 years, and this city was the main focus of his activities and an important Christian community (Acts 19). (Color Map)
Map of the New Testament World - This map reveals the "Nations" within the ancient world during the first century A.D., the time of the New Testament. The map includes the areas of Israel, Asia, Greece, and Italy. (Color Map)
Map of New Testament Greece This map reveals the cities within Greece in the ancient world during the first century A.D.,The map includes the principal cities of Greece like: Athens, Corinth, and Thessalonica, and provinces like Macedonia and Achaia. (Color Map)
Map of New Testament Asia - This map shows the cities within Asia Minor during the first century A.D., the time of the New Testament. The map includes the principal cities of Asia including Tarsus, Ephesus, and Colossae, and provinces like Galatia and Pamphilia. (Color Map)