Luke 2:21 And when eight days were completed before His circumcision, His name was [then] called Jesus, the name given by the angel before He was conceived in the womb.

Lu 2:21. CIRCUMCISION OF CHRIST.
Here only recorded, and even here merely alluded to, for the sake of the name then given to the holy Babe, "JESUS," or SAVIOUR (Mt 1:21; Ac 13:23). Yet in this naming of Him "Saviour," in the act of circumcising Him, which was a symbolical and bloody removal of the body of sin, we have a tacit intimation that they "had need"--as John said of His Baptism--rather to be circumcised by Him "with the circumcision made without hands, in the putting off of the body [of the sins] of the flesh by the circumcision of Christ" (Col 2:11), and that He only "suffered it to be so, because thus it became Him to fulfil all righteousness" (Mt 3:15). Still the circumcision of Christ had a profound bearing on His own work--by few rightly apprehended. For since "he that is circumcised is a debtor to do the whole law" (Ga 5:3), Jesus thus bore about with Him in His very flesh the seal of a voluntary obligation to do the whole law--by Him only possible in the flesh since the fall. And as He was "made under the law" for no ends of His own, but only "to redeem them that were under the law, that we might receive the adoption of sons" (Ga 4:4, 5), the obedience to which His circumcision pledged Him was a redeeming obedience--that of a "Saviour." And, finally, as "Christ hath redeemed us from the curse of the law" by "being made a curse for us" (Ga 3:13), we must regard Him, in His circumcision, as brought under a palpable pledge to be "obedient unto death, even the death of the cross" (Php 2:8).
JFB.
Questions Related to this Verse
Where in Scripture does it mention The child named at the time of Circumcision?
Where In Scripture does it talk about God becoming a man?
Where in Scripture does it talk about The incarnation of the Lord Jesus Christ?
Select a Chapter
Select a Book of the Bible
<
Luke 2 Images and Notes
Brief Summary:
In this chapter, we have an account of the birth and infancy of our Lord Jesus: having had notice of his conception, and of the birth and infancy of his forerunner, in the former chapter. The First-begotten is here brought into the world; let us go meet him with our hosannas, blessed is he that cometh. Here is, I. The place and other circumstances of his birth, which proved him to be the true Messiah, and such a one as we needed, but not such a one as the Jews expected (v. 1-7). II. The notifying of his birth to the shepherds in that neighborhood by an angel, the song of praise which the angels sung upon that occasion, and the spreading of the report of it by the shepherds (v. 8-20). III. The circumcision of Christ, and the naming of him (v. 21). IV. The presenting of him in the temple (v. 22-24). V. The testimonies of Simeon, and Anna the prophetess, concerning him (v. 25-39). VI. Christ's growth and capacity (v. 40-52). VIII. His observing the Passover at twelve years old, and his disputing with the doctors in the temple (v. 41-51). And this, with what we have met with (Mt. 1, and 2), is all we have concerning our Lord Jesus, till he entered upon his public work in the thirtieth year of his age. MHC
Outline
The birth of Christ. (1-7)
It is made known to the shepherds. (8-20)
Christ presented in the temple. (21-24)
Simeon prophesies concerning Jesus. (25-35)
Anna prophesies concerning him. (36-40)
Christ with the learned men in the temple. (41-52)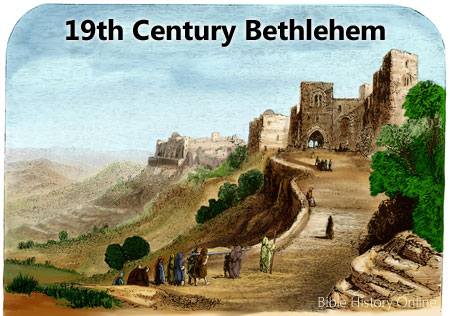 Painted sketch of Bethlehem in the 19th Century
Important Topics for Bible Study

Quick Reference Map


Map of Bethlehem in Judea (Click to Enlarge)
Ancient Customs

Ancient People
Simeon, Jesus, Anna
Geography
Bethlehem
Judaea

Quick Reference Maps
The New Testament