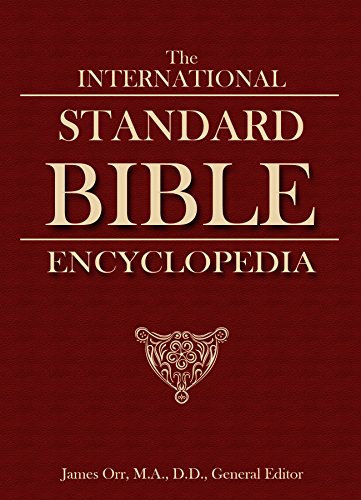 International Standard Bible Encyclopedia
A
B
C
D
E
F
G
H
I
J
K
L
M
N
O
P
Q
R
S
T
U
V
W
X
Y
Z
ENEMY
en'-e-mi ('oyebh, tsar, tsar; echthros): "Enemy," "enemies," are frequent words in the Old Testament. The Hebrew word most often so translated is 'oyebh, meaning perhaps literally, "one who hates"; very frequent in the Psalms, e.g. 3:7; 6:10; 7:5; 8:2; 9:3,1; 13:2, where the cry is often for deliverance from enemies. Another word for "enemy," found chiefly in the poetical books, is tsar, or tsar, "distresser," "straitener" (Nu 10:9; Job 16:9; Ps 27:2,12, the Revised Version (British and American) "adversary," etc.); also tsarar (Est 3:10; Ps 8:2; 10:5 the King James Version, etc.). Other words are `ar, "one awake" (1 Sam 28:16 the King James Version; Dan 4:19 the King James Version); sane', perhaps, "to be sharp or bite" (Ex 1:10; Prov 25:21; 27:6); sharar, "to watch" (Ps 5:8; 27:11), and qum, "to stand up," or "withstand" (Ex 32:25).
In the New Testament echthros, "enemy," "opponent," is the only word translated "enemy" (Mt 5:43,14; Mk 12:36; Lk 1:71,74, etc.; Rom 5:10; 11:28, etc.), once with anthropos ("a man"), joined to echthros (Mt 13:28).
In the Revised Version (British and American) "adversary" is frequently substituted for "enemy" (Nu 24:8; Dt 32:41; Ps 6:7; 7:6; 44:10, etc.); for "O thou enemy," etc. (Ps 9:6) we have "The enemy are come to an end"; instead of "When the enemy shall come in like a flood, the Spirit of the Lord shall lift up a standard against him" (Isa 59:19) we have "For he will come as a rushing stream, which the breath of Yahweh driveth" (with the text of the King James Version in margins); for "The fire of thine enemies shall devour them" (Isa 26:11), "Fire shall devour thine adversaries" (text of the King James Version in the margin).
The frequent reference to enemies in the Old Testament is what we should expect to see in these early times on the part of a people settling in a land that had been occupied by other tribes, worshipping other gods. The spirit of their law was that expressed by our Lord in His Sermon on the Mount, "Thou shalt love thy neighbor, and hate thine enemy." This He changed: "but I say unto you, Love your enemies." An approach toward this spirit had been made in the later prophets by their inclusion of the whole world under one God, who had a gracious purpose toward all, but the near statement of it we only find in Prov 25:21 (quoted by Paul, Rom 12:20). See also Ex 23:4, and compare 2 Ki 6:22; 2 Ch 28:15.
W. L. Walker
Bibliography Information
Orr, James, M.A., D.D. General Editor. "Definition for 'enemy'". "International Standard Bible Encyclopedia".
bible-history.com - ISBE
; 1915.
Copyright Information
© International Standard Bible Encyclopedia (ISBE)
ISBE Bible Encyclopedia Home
Bible History Online Home


Bible Encyclopedia (ISBE)
Online Bible (KJV)
Naves Topical Bible
Smith's Bible Dictionary
Easton's Bible Dictionary
Schaff's Bible Dictionary
Fausset's Bible Dictionary
Matthew Henry Bible Commentary
Hitchcock's Bible Dictionary
Related Bible History